Menopause and andropause are the most common consequences of age-related hormone changes. As your hormone levels change, your oral health needs change, too.
Over time, everyday wear and tear takes a toll on your teeth. Add hormone fluctuation to the mix, and you are more susceptible to gum disease. Your risk of mouth infection, dental decay and tooth loss also increases with age.
Many people think dentures are the answer. Although growing older is inevitable, getting dentures doesn't have to be. Your teeth can last a lifetime, even through your golden years—but only if you take care of them.
Age, Hormones and Oral Health
Teeth are very strong, but a lifetime of use can wear away the enamel and biting edges. This creates an environment for serious dental problems. A break or crack in one of your teeth can lead to inflammation or infection.
Receding gums is a common condition in adults over 40. It is often a sign of aging: the result of daily wear and tear or years of vigorous brushing. Sometimes, receding gums signal something more.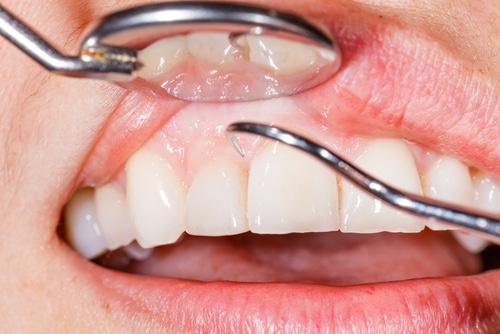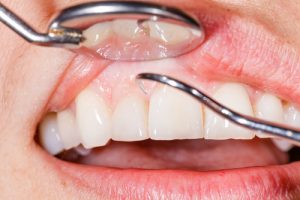 Dry mouth is another oral health concern for older adults. The American Dental Association says dry mouth affects 30 percent of those over 65. It is often linked to lower hormone levels or certain medications.
Worn enamel, receding gums and dry mouth increase your risk for dental caries. The older you get, the more likely you are to have cavities. But there are things you can do to help prevent cavities and other oral health issues.
Reduce Wear and Tear
Tooth enamel is stronger than bone, yet biting, chewing and grinding can wear it away. You can't erase wear and tear without dental restoration, but you can keep it from getting worse.
To prevent chipped enamel and broken teeth, do not chew ice, hard candy or other hard foods. Talk to your dentist about your bite; a poor bite may need orthodontic work. If you grind your teeth (bruxism), you might need to wear a mouth guard.
Take Care of Your Gums
Plaque (bacteria) forms on your teeth all the time. Not removing the plaque can cause sore, swollen or bleeding gums. This can lead to gum infections that can damage the jawbone.
If you have gum disease, your dentist can treat it. Without treatment, the disease can cause gum damage and bone loss. If this happens, you might need to have your teeth removed.
The best way to take care of your gums is to take care of your teeth. Brush, floss and see your dentist for regular checkups and cleanings. Drink plenty of water, stop smoking and if you wear dentures, keep them clean.
Treat Your Dry Mouth
Saliva lubricates your mouth and aids digestion. It also helps keep your teeth clean. Dry mouth occurs when your salivary glands don't make enough saliva to keep your mouth wet.
Dry mouth is often caused by aging and related hormone changes. It is also a common side effect of certain medications. Some cancer treatments, such as radiation, also cause dry mouth.
To improve this oral health condition, drink more water. If possible, hold the water in your mouth for a few seconds before swallowing it. Sugarless candy (or gum) is another remedy. If you think medicine is causing your dry mouth, ask your doctor to change the prescription.
Conclusion
Good dental practices are the best way to take care of your oral health. Make sure brushing and flossing are part of your daily routine. See your dentist on a regular basis to address mouth issues before they become problems, and work with your dentist or doctor to lower your risk of hormone-related bone loss.