A recent study suggests there could be a connection between baldness and prostate cancer and testosterone may be the link.
The chief male hormone, which has been known to precipitate a specific type of baldness in men, may also serve as a precursor to the development of cancer later in life.
How Does Testosterone Impact The Body?
The androgen is critical to a man's development and overall well-being because it performs several functions within the man's body. Its primary duty is to stimulate the male libido and growth of the sex organs. However, the substance also fosters muscle and bone growth, stimulates red blood cell production within the bone marrow and can alter mood.
Over and under-production of testosterone could have far-reaching consequences. Too little of the hormone can lead to problems such as weight loss, bone fractures, depression and sexual difficulties. If too much of the androgen flows through a man's blood stream, the end result could be high cholesterol. However, according to recent scientific studies, the chemical's effect on baldness might be related to its most serious bodily impact.
Hormonal Link To Baldness?
The male body synthesizes the hormone into the androgen known as dihydrotestosterone, or (DHT). DHT stimulates the hair follicles, causing hair growth on certain parts of the body such as the chest, but hair loss to others, most notably the scalp. Hormone-induced hair loss is a medical condition referred to as Androgenic Alopecia, more commonly called Male-Pattern Baldness, which can begin as early as the 20s, but typically occurs as a man ages.
The Connection To Prostate Cancer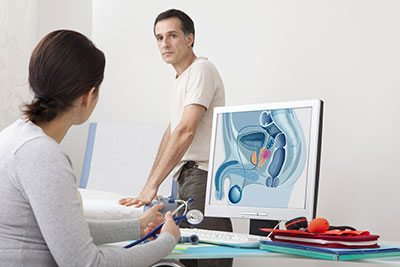 DHT is also medically proven to foster the growth of prostate cells, which can result in an affliction called Benign Prostatic Hyperplasia, or simply, an enlarged prostate. This condition is fairly common in older men and is not always an indicator of a future diagnosis of prostate cancer. However, scientists believe men who have experienced male-pattern baldness could potentially be at a greater risk of developing prostate cancer.
In one American-based examination, nearly 200 men with prostate cancer and more than 100 men possessing high scores in a cancer indication test were studied. Bald men typically had the most severe degrees of cancer. In addition, those with high pre-cursor scores also displayed a higher grade of baldness. Another study of American men found a link between aggressive forms of prostate cancer and male-pattern baldness.
American scientists did not only reach these conclusions. A team of Australian researchers compared roughly 1,500 men diagnosed with moderate to more aggressive types of prostate cancer prior to reaching 70 years old to 1,400 men within the same age bracket, but cancer free. Researchers found incidences of cancer to be much more prevalent in men with bald spots than in those with full heads of hair.
Can Anything Be Done To Circumvent This Situation?
Scientists caution that these studies are far from conclusive and do not in any way guarantee that baldness is, or will ever be a symptom of prostate cancer. It is, however, recommended that men who have or are currently experiencing male-pattern baldness discuss this matter with their doctors. This is particularly true if they possess other risk cancers for prostate cancer, most notably a family history of the disease.