Oats fall under gluten-free whole grains and provides the body with the required nutrients. Oats are linked to numerous health benefits, including weight loss and lowering blood sugar levels. What an excellent way to start your morning with a bowl of oatmeal. Oats can be used for morning meals, a quick way to deal with hunger or a light and nutritious evening snack. Boost your energy levels by eating oats. Remember, the health benefits of oats come from its antioxidant properties. So, it's essential to learn how to make oatmeal as well. Below are recipes on how to prepare oatmeal, as well as details on the health benefits associated with this superfood.
Oatmeal Recipes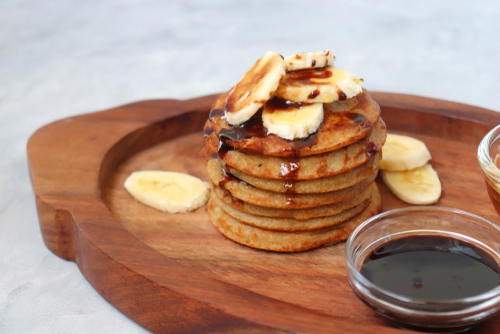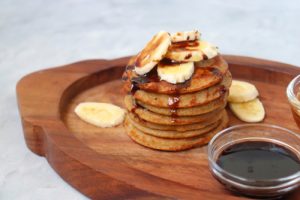 Ingredients
1 1/2 cup of oats
1 cup milk
¼ teaspoon ground cinnamon
2 tablespoon baking soda
1 tablespoon unsalted butter
1 tablespoon sugar
2 large eggs
2/3 cup flour
A pinch of salt to taste
Direction
Using a blender, grind 1 1/2 cup of oats into a fine powder.
Mix the powder with cinnamon, baking powder and salt.
Put melted butter, sugar, eggs and milk into a bowl. Note that you should not use cold milk.
Whisk everything together, and then add the flour mixture.
Mix until everything is well combined. The mixture should have a thick pouring consistency.
Grease the pan thoroughly and heat it. Pour some batter into the pan and don't spread it much.
Add a little oil or butter and allow it to cook on medium heat until the base is firm and ready.
Turn it over to cook the other side.
Serve while hot and use chocolate syrup or maple syrup.
Ingredients
1 cup of oats
2 cups of unsweetened almond milk or any other milk
1 mashed banana
½ tablespoon of vanilla extract
½ teaspoon of ground cinnamon
A pinch of salt to taste
Directions
Put all the above ingredients into a saucepan and turn the heat to medium/high.
Let it boil, and turn down the heat to low while stirring for about five minutes.
The oat should thicken. Turn off the heat at the desired consistency.
Serve while hot.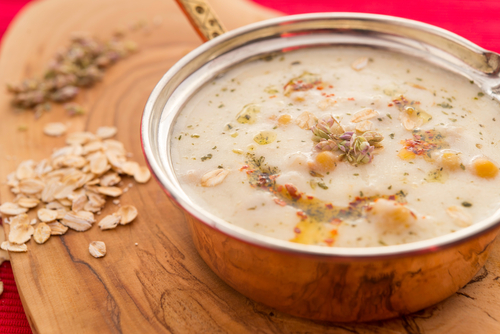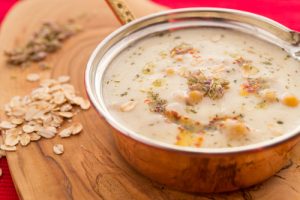 Ingredients
1 tablespoon butter
3 clove garlic or ginger
1 cup oats
1 cup diced carrots
1 cup sweet corn
1 cup French beans
1 cup green peas
1 teaspoon red chili flakes
Salt to taste
Directions
Add butter to a pan, and after melting, sauté garlic. You can use ginger instead.
Add oats and allow them to sauté for three minutes or until they smell nutty.
Mix all the vegetables together and sauté them for a minute.
Add water to the mixture until it suits your taste.
Allow the veggies to cook properly under medium heat. No need for food thickeners since oats make dishes slightly thicker. Add water as desired.
You can now spice it as you please, including adding herbs and salt.
Turn off the heat and add red chili flakes now or when serving.
Serve while hot.
Health Benefits of Oats
1. Lowers Blood Sugar Level by Improving Insulin Response
Oats are rich in beta-glucan fiber that is important in improving insulin response in the body, thus managing blood sugars. Type 2 diabetic individuals may benefit from consuming oatmeal, provided they don't add sugar to the dishes.
A clinical trial that involved people with type 2 diabetes concluded that oatmeal had a positive impact on blood sugar control.
2. Lowers Cholesterol Levels
Many people continue to die worldwide due to heart attacks, especially those 55 years and above. The reason for increased heart attacks is due to high blood cholesterol. Beta-glucan found in oats helps in the excretion of cholesterol-rich bile used to inhibit cholesterol passage in the blood.
Free radicals lead to the oxidation of bad cholesterol, which plays a part in advancing heart disease. These free radicals work by causing inflammation in the arteries, damaging body tissues and increasing the chance of stroke. A study stated that antioxidants found in oats combined with vitamin C could be used to prevent bad cholesterol oxidation.
Final Thoughts
The health benefits of oats are vast, and by incorporating it into your meals, you stand a good chance of fighting off any external body invasion. Apart from that, oats have a filling effect; thus, they can be used in the weight management journey. That said, oats are one of the beneficial foods you can include in your diet.