HCG, or human chorionic gonadotropin, is a hormone that is produced in pregnant women and beyond its role during pregnancy, is believed to also be the culprit behind raising testosterone levels.
So where does this presumption arise from? Recently, much of the buzz regarding hCG is found amongst the fitness community. Some believe that this hormone can help raise testosterone levels and thus could lead to better results when it comes to muscle growth and weight loss, but to prove this assumption, it is essential to first look at the biological impact the hormone plays.
Understanding Commonly Referenced hCG Impacts
During pregnancy, the human chorionic gonadotropin hormone is produced and peaks in production around eight to 10 weeks into gestation before declining steadily, until production levels balance out at around 20 weeks. The purpose of human chorionic gonadotropin is to help the body maintain a pregnancy.
This hormone works by triggering the release of progesterone, an essential when it comes to pregnancy hormones. Progesterone helps to thicken the lining of the womb, which is necessary for implantation and maintaining a pregnancy.
In addition to its role in early pregnancy, human chorionic gonadotropin can also be beneficial as a fertility treatment, and some studies have shown that human chorionic gonadotropin may improve fertility in both men and women. This is because it can aid in ovulation and even increase sperm count in men. Through the use of hCG injections, sometimes this approach is used to help regulate the menstrual cycle and stimulate the release of eggs from the ovaries, or stimulate ovulation, in women who are having difficulty conceiving.
Additional Benefits of Human Chorionic Gonadotropin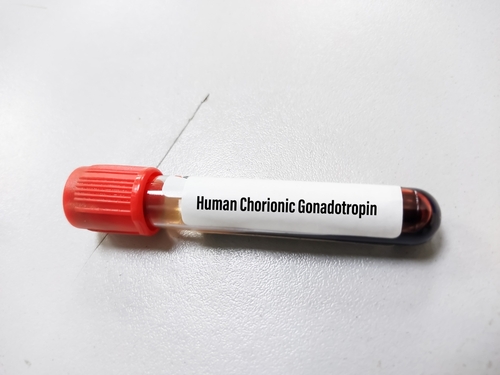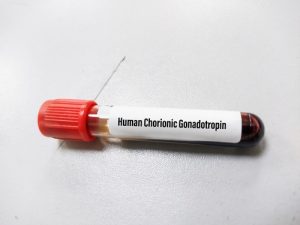 In addition to its role in pregnancy and ovulation, hCG has been regarded as a beneficial hormone for additional purposes. For some researchers, they believe that hCG may help to diagnose and treat certain types of cancer, including testicular cancer, ovarian cancer and possibly breast cancer.
As a natural hormone that is produced by the body, a big benefit of hCG is that it is considered relatively safe for use by most people, and is a relatively affordable treatment option, especially when compared to other fertility treatments.
HCG and Testosterone Levels
In short, when it comes to the impact hCG can have on raising testosterone levels, the answer is yes, it can raise testosterone levels in men. In fact, it is often used as a treatment for low testosterone levels, which plays a key role in male fertility and sexual function, but can be impacted by age-related conditions, such as andropause. Often used as a treatment for low testosterone levels, human chorionic gonadotropin is not an anabolic steroid, but it can help to increase testosterone levels in men who are experiencing decline in natural levels.
In men, hCG can be used as a treatment for low testosterone levels by stimulating the testicles to produce more of the testosterone hormone. Like many hormone replacements, typically, human chorionic gonadotropin is administered via injections, with a typical dose coming in around 250 IU (international units) injected into the muscle three times per week, although some men may need a higher dose, and the dose may need to be adjusted over time depending on response to treatment.
Side effects of human chorionic gonadotropin are typically mild and may include such symptoms as headache, fatigue, and upset stomach. More serious side effects are rare but can include blood clots and breast enlargement.
Like any hormonal treatment, it is important to talk to your doctor about the potential risks and benefits given your specific situation and health concerns as human chorionic gonadotropin is a powerful hormone that should only be used under the supervision of a medical professional, as this hormone can interfere with the way the body metabolizes medications and may cause unwanted side effects in certain groups, especially if other health conditions are present.
All-in-all, the fitness community is correct, hCG can be used to boost testosterone levels in men, and may even be the perfect testosterone booster for those undergoing andropause or age-related concerns. For those looking to raise testosterone levels without using synthetic hormones, human chorionic gonadotropin might be worth discussing with a doctor to determine if the course of hormone use is a good fit for the situation to provide men with a positive change in energy, muscle mass, and overall hormonal health.