A healthy diet rich in fruits and vegetables is essential for good health, especially when we age. These foods offer a number of important antioxidants that have beneficial effects on the body. This also includes fruits such as sweet prunes. When we think of the delicious fruit, we usually associate it with regulating digestion and preventing constipation. According to research, prunes are even more effective than the well-known psyllium for a sluggish intestine. But this fruit can do even more. In fact, they are said to have beneficial effect on the bones and heart, which is particularly an advantage for older women.
Healthy Bones
Animal studies suggest that consuming antioxidant-rich fruits may have a pronounced effect on bone health by promoting bone formation, suppressing bone resorption, and increasing bone strength. Research shows that women in particular who are going through menopause benefit greatly from the sweet fruit. A study of postmenopausal women suggests that daily consumption of nutrient-dense prunes improves bone health by reducing inflammatory factors that contribute to osteoporosis.
Osteoporosis is a devastating disease that results in a loss of bone strength caused by decreased bone mineral density. The condition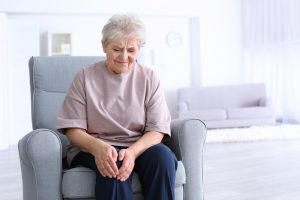 increases the risk of fractures, particularly in older adults. Older people going through menopause have lower levels of estrogen, which in turn leads to more inflammation in the body, which can also contribute to bone loss. Scientists looked at postmenopausal women with what was defined as low bone mineral density – a marker for osteoporosis. They looked at blood samples taken from volunteers before and after the study and found significant decreases in markers of inflammation in both groups that ate prunes compared to the control group. They found that as little as 6 to 12 prunes a day can reduce pro-inflammatory mediators that contribute to bone loss in postmenopausal women.
Other research suggest that consumption of prunes prevents loss of total body bone mineral density in elderly postmenopausal women with osteopenia. In one study, 48 women with osteopenia (bone mineral density below normal but not low enough to be classified as osteoporosis) were randomly assigned to one of three treatment groups for six months: 50g prunes, 100g prunes, or control group. Total body, hip and lumbar bone mineral density and several markers of bone metabolism were assessed. The data showed that both prunes groups were able to prevent bone mineral density loss compared to the control group. This effect has been partially explained by prune´s ability to inhibit bone resorption. The study supports previous data on the role prunes may play in preventing bone loss, particularly in postmenopausal women.
Healthy Heart
New research published in the Journal of Medicinal Food suggests that daily consumption of prunes may improve cardiovascular disease (CVD) risk factors, including increasing antioxidant capacity and reducing inflammation in healthy postmenopausal women. Cardiovascular diseases are the number one killer worldwide and pose a major public health challenge.
Research led by San Diego State University shows that prunes may have a positive impact on the risk of heart disease. In this randomized, controlled study, researchers found that eating 50 grams of prunes (about 5-6 prunes) per day for just 6 months resulted in improved CVD risk biomarkers — including increases in the body's "good" cholesterol , known as HDL, and lowering the total cholesterol to HDL ratio. Daily consumption of prunes also promoted greater antioxidant capacity and lowered levels of the inflammatory cytokines interleukin-6 and tumor necrosis factor-alpha, which are linked to CVD risk. Notably, the study participants' body mass index and weight were maintained throughout the study, even though they added prunes to their usual diet. While the exact mechanisms and specific compounds that contribute to these beneficial effects have yet to be determined, naturally occurring antioxidant phenolic compounds, fiber, and other nutrients are thought to play a role.