After following our 30-day hydration challenge, you may find a happier, healthier, and more attractive you at the other end.
Bodies love water — crave it, even — which makes sense since we humans are 70 percent H2O! But aside from the obvious benefit of keeping up feeling hydrated, studies also reveal that proper hydration may help you lose weight, look better and even fight cancer.
Despite the proven benefits of drinking enough water, downing enough each day can feel like a torturous chore. For many people, drinking water is considered a monotonous task, the water itself being considered boring. To others, their taste buds construe water as the liquid equivalent of over-cooked kale. Yuck!
But all hope is not lost for the water-averse. Many people who commit to a 30-day hydration challenge discover that nature's cocktail is a miracle serum that improves their lives in dramatically positive ways.
To help out, we've crafted a month-long, step-by-step routine to incorporate more water into your diet. Follow it, and on day 31, you may feel 300 percent better than you do right now. So, grab a glass or a water bottle, and let's get hydrating!
The Hydration Challenge Goal
How much will we be drinking? The goal of this hydration challenge is to consume the equivalent of eight, eight-ounce glasses of water a day, for a total of 64 ounces per day. Technically, according to standard recommendations, men should consume 101 ounces daily and women at least 74. Due to the fact that we also ingest water in other ways through our dietary food choices, eight glasses is a good target.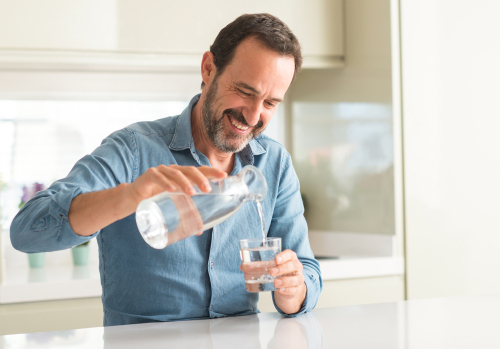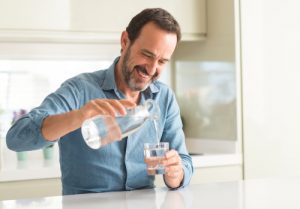 For individuals aged 45 and older, be sure to pay extra attention to water consumption and aim to meet the recommended daily allowances. The older we get, the more our bodies benefit from proper hydration, and seniors are at the greatest risk of having serious health complications as a result of dehydration.
Before you start dreading the bland flavor of water, rest assured, you don't have to drink tasteless water all day long. Feel free to pick up a squirt flavor from the supermarket juice aisle, or add a couple dashes of lemon or lime juice to your water, or use a soda stream with ice tea or lemonade drops for a tasty and bubbly hydration option. These added flavors are usually only a few calories, if any, and can transform the experience! If you're looking to avoid the artificial flavoring additives but still want to have some good flavors, look into infusing your water with fresh herbs, slices of fresh fruit and berries, or small slices of fresh vegetables such as cucumber slices or celery sticks.
6 Benefits of Drinking 6+ Glasses of Water a Day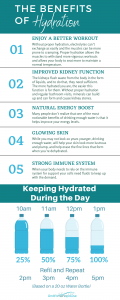 Enjoy a Better Workout – Muscles need a good balance of electrolytes to function properly. Without proper hydration, electrolytes can't exchange as easily and the muscles can be more prone to cramping. Proper hydration allows the muscles to withstand more vigorous workouts. In addition, you may find yourself sweating more during physical activity, which is actually a good thing as it indicates that your body is hydrated enough to maintain a normal temperature.
Improved Kidney Function – The kidneys flush waste from the body in the form of liquids, and to do that, they need sufficient. The more hydrated you are, the easier this function is for them. Without proper hydration and regular bathroom visits, minerals can build up and can form and cause kidney stones.
Natural Energy Boost – Many people don't realize that one of the most noticeable benefits of drinking enough water is that it helps improve your energy levels.
Glowing Skin – While you may not look 20 years younger, drinking enough water, will help your skin look more lustrous and plump, and help erase the fine lines that form when you're dehydrated.
Regular Bowel Movements – Every cell in your body requires water, and if your body is lacking hydration, you may find it harder to pass a stool. "When your body needs to have more water in a certain area, it will take out of less essential areas—and that means it will take away from your digestive system," Bruning says.
Strengthened Immune System – Believe it or not, proper hydration can help you heal and recover faster when you're sick. There's a reason your doctor tells you to drink more fluids when you're coming down with something. When your body needs to rely on the immune system for support your cells need fluids to keep up with the demand.