Andropause results in a lack of energy and other symptoms for aging men. Saw palmetto, when used as a men's health supplement, can help men feel younger.
Andropause, also called male menopause, refers to a collection of symptoms that middle-aged men tend to experience as their levels of testosterone decline. Some of the symptoms of andropause can include depression, fatigue, increased body fat and low sex drive. While there are many available herbal remedies designed to help increase testosterone, one of the more popular natural men's health supplements is saw palmetto. While it has a history of use in traditional medicine, more current research indicates that saw palmetto may be able to help aging men avoid low testosterone and the complications that come with it.
How Has Saw Palmetto Historically Been Used as a Supplement?
This extract is made up of a collection of fatty acids. It comes from the saw palmetto plant, which is also called Serenoa repens. Saw palmetto extract has been used by Native Americans for centuries to help improve male urinary and reproductive disorders. Saw palmetto also was used as a general tonic and as a medicine to help cure a variety of illnesses.
How Does Saw Palmetto Support Men's Health?
More recently, studies have helped to illuminate why saw palmetto was historically used to help cure reproductive and urinary issues in men. This extract has been shown to possibly reduce prostate growth, and some studies have shown that it increases the quality of life and a general sense of well-being that tends to decrease during andropause.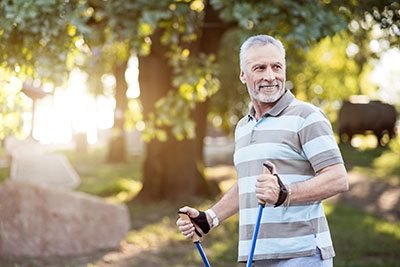 However, saw palmetto is most commonly advertised as a testosterone booster, and it is even sometimes sold as an ingredient in workout supplements. While more evidence is needed to determine whether this is an extract that can conclusively raise testosterone or not, some studies have offered a possible mechanism for the way saw palmetto increases testosterone. This extract has been shown to inhibit the body's production of 5-alpha-reductase. This is an enzyme that breaks down testosterone into another male hormone called dihydrotestosterone. As men age, this enzyme becomes more active and it is largely responsible for the gradual testosterone decrease most men experience as they age. Thus, supplementing with saw palmetto may be able to help aging men avoid a steep drop in testosterone and the side effects that come with it.
By working against the breakdown of testosterone, a good saw palmetto supplement may be able to help men maintain a favorable body composition, have more energy and avoid depression, irritability and other side effects of low testosterone.
What is the Most Effective Way to Supplement With Saw Palmetto?
Most dietary supplements come in a variety of forms, including liquids, capsules and oils. Often, one form tends to be more effective than the others at achieving a given supplementation result. Most studies using saw palmetto have given test subjects saw palmetto oil. Most readily available saw palmetto supplements are made of saw palmetto powder that is put into capsules.
While the powdered form of this extract may well be just as effective as the oil form, there is not much research on the powder. However, for those who do take the powdered supplement, it is important to understand that most saw palmetto capsules contain doses that are far less than 320 mg, which is the dose that some studies have found to be effective.
Because this extract is fat soluble, it may absorb better if taken with food. When shopping for a saw palmetto extract, many experts advise looking for a supplement that contains 80 percent to 90 percent liposterolic compounds by weight and then dosing the supplement between 160 and 320 mg daily.
For men who are in or approaching andropause, saw palmetto offers a potential way to reduce the drop in testosterone that often causes undesirable side effects. Since this supplement is herbal, all-natural and does not have any known major side effects, it is a good choice for those looking for a men's health supplement that is easy to take and can improve health naturally.