Sometimes called male menopause, andropause is similar to female menopause as far as hormone production is concerned. However, there is no cessation of function such as women experience when their periods stop. In addition to sexual function, andropause can affect energy levels, cause decreased muscle mass and strength, and may result in other symptoms like depression or hot flashes. Treatment can include lifestyle changes, herbs and supplements or conventional medicines.
What is Andropause?
Both men and women produce sex hormones. In women, the predominate sex hormone is estrogen, while in men it is testosterone. Beginning as early as the age of 30, testosterone levels gradually begin to decrease. Scientists estimate that testosterone levels fall about one percent per year. The drop in testosterone levels can cause body composition to shift from lean muscle to fat, reduce muscle mass and strength, and decrease bone density (osteoporosis). It is also common for men with low testosterone to have decreased body hair and their skin becomes thinner. Libido (the desire for sex) decreases and men may also experience difficulty obtaining or maintaining an erection. Mental symptoms may include depression and irritability, while cognitive function may decline. The quality of a man's sleep may also be affected and energy levels may decline. Blood tests can confirm lower levels of testosterone.
Medical Treatment
Treatment for andropause falls into three categories: basic lifestyle and health strategies, conventional medications and herbs. Costs of the latter two vary greatly depending on manufacturer and insurance coverage.
Lifestyle Changes
Proper diet, exercise and sleep are the cornerstones of all health. In andropause, exercise is critically important. First, exercise slows the loss of muscle mass and strength. Testosterone levels fall when muscle mass decreases, while falling testosterone causes loss of muscle mass – a vicious cycle. Regular aerobic and strength-training exercise is beneficial in breaking or slowing the cycle. Exercise also promotes good quality sleep. The diet should be high in fruits, vegetables and healthy fats from foods that contain Omega-3 and other essential fatty acids. Good sleep hygiene – a cool, dark room, regular bedtimes and minimal use of stimulants like caffeine – promotes better sleep.
Conventional Medications
Testosterone is available in oral forms (although not in the US), injectable formulas, trans-dermal patches and gels, and in tablets to dissolve under the tongue. Each form offers certain advantages and may have different side effects. The choice of treatment is dependent on the patient's symptoms, preferences and other medical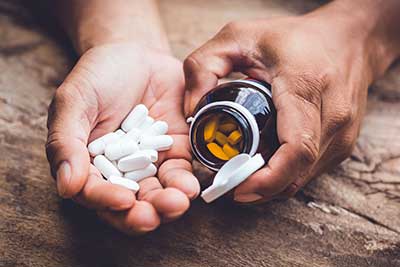 issues. Although long-term trials have not been conducted, research does indicate that men who receive testosterone supplements for low testosterone levels are more likely to show improvement in muscle mass, bone density and sexual function. Testosterone does not increase the risk of prostate cancer, but may increase the risk of an enlarged prostate or promote the growth of prostatic cancer cells if given to patients who already have prostatic cancer. Weight gain is the most common side effect.
Herbal Options
Herbal treatments have a long traditional history, although in many cases, there is not a great deal of research on individual herbs. Tribulus terrestris is a natural aphrodisiac that may promote erections and higher testosterone levels. Suma root – from the rain forests of South America – is also helpful for some men. Ashwagandha has been used in India for over 3,000 years and may promote fertility as well as sexual function; it may also increase energy. Maca, or Peruvian ginseng, promotes erections and may boost sperm quality. Avena sativa may promote a healthy sexual response and increase libido, as does the Malaysian herb tongkat ali. Catuaba is similar to tribulus terrestris, while muira puam promotes blood flow to the penis. Other herbal treatments include black cohosh for night sweats and hot flashes, and red clover to improve circulation. Wild yam and dong quai may help promote testosterone production. Small doses of gingko biloba and yohimbine may improve blood flow.
Andropause can cause significant symptoms for aging men. However, treatment is available. Contact your physician to discuss this issue.