Tribulus Terrestris is an Ayurveda plant that can pose surprisingly strong benefits for the vitality and virility of men who use it in supplemental form.
Men from all corners of the globe and all creeds didn't to run into a similar issue that emerges with age: diminished testosterone levels. No matter how energetic and active a man might have been in his younger years, lowered vitality just happens to be a fact of life for men who live life long enough.
Thankfully, there are more than just a few solutions out there that men can look to as a chance to reclaim that old spark of masculine vitality in their bodies; tribulus terrestris is one of the best examples of said solutions.
Vitality enhancement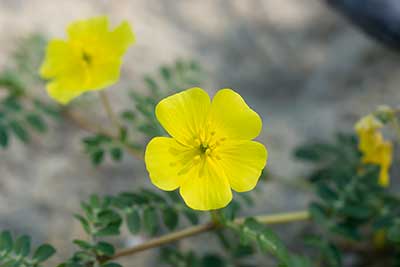 This supplement isn't just another synthetic male vitality booster built in a laboratory. The herb is a natural vitality booster that is harnessed from both the fruits and roots of a Ayurveda herb. The roots of the plant contain components that have the ability to increase a man's libido without actually exacting any effect on his testosterone levels in the process.
Generally, this supplement is employed for purposes related to either urogenital or cardiovascular health. Though the primary use of the supplement may not explicitly be for helping men reclaim their vitality and virility, its potency for such aims has made it exceedingly popular.
Libido enhancement
In addition to helping men get a step back in the right direction in terms of their vitality and virility, the herb can also give men a boost in terms of sexual welfare as well. The herb's libido-enhancing properties are linked to significant density of androgen receptors that it can facilitate.
By triggering an influx in the number of androgens in muscle tissue and the brain, the supplement can act as a beneficial agent for the libido of those who use it on a regular basis. While the supplement has not been shown to have any significant effect in terms of boosting fertility, its ability to deepen the sexual energy in men who take it has been noted in many case studies and reports.
Organ protection and stress reduction
In examinations conducted to determine the exact origin of the herb's power, it's been found that the fruit also has a protective effect on the liver and kidneys. By ingesting the herb, the organs are better-protected from oxidative damage at a low levels.
Not only can the supplement protect the organs from destructive oxidation, but its also been noted to possess potential as an adaptogen as well. The herb's adaptogenic qualities give it the ability to relieve stress levels in men who take it.
Summary
To date, researches have expressed that there still yet remains more room to ascertain exact how the effects of the herb manifest. Aside from the correlation between the herb's use and a boost in androgen receptors, most researchers have been unable to nail down the exact molecular chain reaction that leads its effects. Nevertheless, tribulus terrestris has managed to cement itself as one of the premium vitality boosters, libido enhancers, organ protectors and stress reducers in the herbal supplement industry.