Most people have strong feelings about eating mushrooms – you either love 'em or hate 'em. Wherever you fall on the spectrum however, when it comes to edible fungi, you may warm up to the little guys when you learn about their anti-aging powers. It turns out that the humble mushroom is one of the best sources of two powerful antioxidants that help fight aging!
The Link Between Antioxidants and Aging
Antioxidants are one of the very best ways to combat the physical signs of aging from the inside out. The powers of antioxidants have been praised by everyone from Oprah to Harvard Medical School.
If you have had blinders on in your grocery store checkout aisle, here is what you missed: "antioxidants" are compounds that help offset the damage caused by "free radicals."  We all have internal and external sources of free radicals and antioxidants that affect our bodies. Free radicals can damage cells and contribute to the visible (i.e. wrinkles) and invisible (i.e. heart disease) signs of aging over time. Antioxidants help fight the aging of our cells by keeping free radicals from doing as much damage as they potentially could.
You may already be familiar with antioxidants like Vitamin C and Vitamin E, but there are more than a dozen antioxidants that have benefits for the human body. While many fruits and vegetables are well-known sources of antioxidants, research at Pennsylvania State University recently discovered that the mushroom is actually the best, and most potent source of two of these dietary superheroes: ergothioneine and glutathione.
Meet Ergothioneine and Glutathione, Your New Anti-Aging Buddies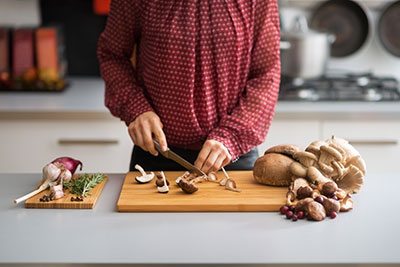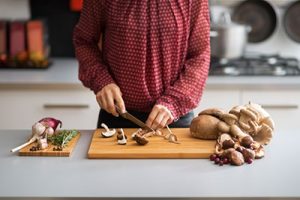 Glutathione has a sterling reputation for preventing damage at a cellular level. In fact, some research has suggested that cellular glutathione levels may actually be a good predictor of how long you'll live. Ergothioneine has been shown to protect cells against oxidative stress and cell death, and protect cellular DNA from damage. Cultures that have more ergothioneine in their diet, like France and Italy, have been found to have lower rates of diseases like Parkinson's and Alzheimers.
In addition to the powerful antioxidant benefits, mushrooms also contain other beneficial nutrients such as:
Niacin
Riboflavin
Folate
Phosphorus
Iron
Panthothenic Acid
Zinc
Potassium
Copper
Magnesium
Vitamin B6
Selenium
Thiamin
Time to Eat Some Mushrooms
The combination of these two powerful antioxidants, ergothioneine and glutathione, is found in a single mushroom. Thus, just one serving per day can deliver a significant antioxidant boost. Unlike some foods that lose their nutritional punch when cooked, the antioxidant benefits of a mushroom holds up whether consumed when it is cooked or it is raw.
Any kind of mushroom you find at the grocery store will have some of these benefits, but if you want the strongest antioxidant dose go with a wild porcini mushroom, which had the highest level of the antioxidants of all the species included in the study.
Not sure how you work mushrooms into your diet? Here are some ideas to try:
Chop them up and put them in salad
Sautee them with broccoli or spinach and serve with pasta
Use them in a sauce over chicken or steak
Add them as a pizza topping
Pop them into a savory soup or stew
Slice them up and add them to a breakfast omelet or scramble
Since they don't typically have an overpowering flavor, they can be added to all kinds of dishes without compromising the flavor of the dish. Get creative and incorporate a handful of mushrooms into your daily diet. Your cells will thank you for it!