Calorie restriction and meal timing may offer anti-aging benefits. You can gain anti-aging benefits by avoiding late-night meals.
You may think that eating a big meal right before bed is an excellent way to gain weight, but did you know that it could also be aging you? A recent study found that consuming most of your daily calories after 6 p.m. could lead to biological signs of accelerated aging. Keep reading to learn more about the benefits of avoiding late-night meals.
What Is the Science Behind Eating Early in Anti-Aging?
Anti-aging procedures, products, and treatment option information is widely circulated today. But do these strategies actually slow down aging? Aging is a complex affair, and there isn't always a straightforward solution to slowing it down. However, in addition to dietary choice, recent research done by the University of Texas Southwestern Medical Center suggests the timing of meals, in addition to calorie restriction, may hold anti-aging benefits. The theory is that by consuming most of your daily calorie intake earlier in the day, you can minimize the impact of "age-promoting factors" at night.
So how does this work? When we eat late at night, our bodies have a more challenging time metabolizing food. This process creates harmful byproducts that can damage cells and lead to inflammation. This inflammation has been linked to several age-related diseases, such as heart disease, Alzheimer's and cancer.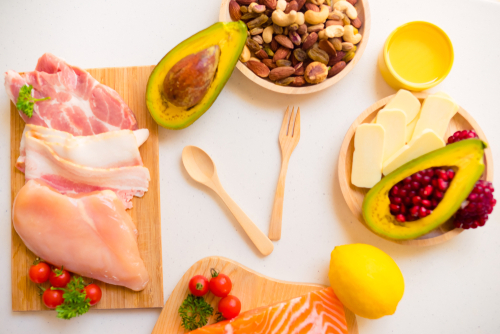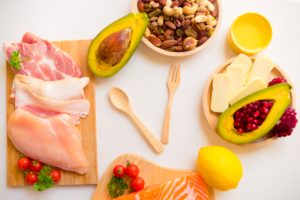 In the study, researchers fed two groups of mice a high-fat diet. One group was allowed to eat whenever they wanted, while the other was restricted to eating during an eight-hour window. After four weeks, the mice that ate whenever they wanted showed signs of accelerated aging, including damaged DNA, insulin resistance and inflammation. The mice that ate during the eight-hour window did not show these signs of aging.
While more research is needed to confirm these findings in humans, the study provides some interesting insights into the potential anti-aging benefits of avoiding late-night meals. So, if you're looking to slow down the aging process, it may be worth considering when, not just what, you eat.
Benefits of Avoiding Late-Night Meals:
Avoiding late-night meals has the following advantages:
You can easily achieve healthy aging by decreasing nighttime calorie consumption. The study on mice found that calorie-restricted diets enhanced glucose regulation and insulin sensitivity in the animals, although the gains were highest in mice that only ate at night. As a result of eating at night, the mice appeared to be in better health and lived longer.
Aging raised the activity of genes involved in inflammation while decreasing the activity of genes related to metabolism and circadian rhythms in all of the mice studied, according to the researchers. Even though caloric restriction reduced these age-related changes, the most significant gains were prevalent in mice that only ate one meal per day. Calorie restriction, therefore, has an anti-aging benefit that can, in the long run, slow down the inflammatory response as we age.
Studies have also shown that eating late at night has a higher chance of disturbing your sleep patterns. For instance, the experiment indicates that sleep disruption in the mice that ate during the day may have contributed to their shorter lifespan. In addition, all the mice in the study were male. Eating meals late at night may easily play a role in disrupting your sleep, which will also eventually affect your mood.
Prolonged failure to sleep can easily make you stressed and depressed, contributing to faster aging. Therefore, avoiding eating meals late at night has anti-aging benefits in allowing you to sleep better. When you sleep better, your mood and general well-being will likely improve, which may slow down the aging process.
According to Medical News Today, if you eat a high caloric diet late at night, your blood sugar levels are likely to be out of control and increase your sugar levels. And if your blood sugar level goes up, you might get diabetes. With diabetes, you will get stressed and eventually age faster. Research has shown that people with a specific gene variant for the melatonin receptor are susceptible to this effect. Melatonin regulates your sleep-wake cycle. Insulin secretion is hampered, as well as tiredness, as its levels rise in the evening. As a result, meals that are eaten close to bedtime cause the body to have more trouble controlling blood sugar levels.
It is common for people to snack on high-carbohydrate foods like chips and sweets in the evening, which raises their risk of developing diabetes and prediabetic conditions. When carbohydrates are consumed earlier in the day, blood sugar levels are more stable, which helps prevent the development of prediabetes. The risk of developing diabetes and aging more rapidly increases if these meals are consumed late at night.
Healthy Meal Plans
If you're wondering how one can implement the timing of meals in a three-meals-per-day strategy, there are some methods. The critical thing to consider is that you want your last meal to be no later than 7 p.m. to reap the benefits of avoiding late-night meals. It's all about getting the maximum calories consumed per meal. One such way is intermittent fasting. By regularly shifting between a healthy, heavy diet in the day and light eating, you might find yourself able to resist the temptation of late-night meals. Another method is to have an early dinner, a widespread practice in Europe. It means consuming your dinner around 5 or 6 p.m. and then avoiding eating for the rest of the night.
Both require willpower to stick to, but if you're looking for anti-aging benefits, it may be worth considering changing up your mealtimes. Try out different methods to see what works best for you and your lifestyle.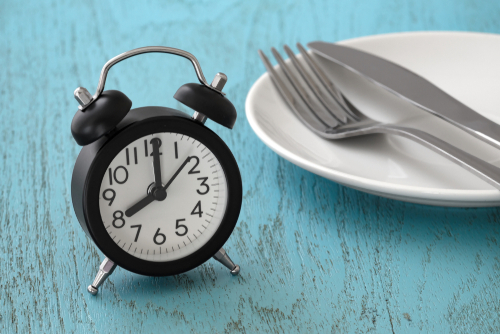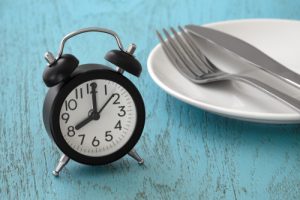 Eating breakfast, lunch and dinner at the following times could help in the anti-aging process. You could try this:
Breakfast: Between the hours of 8 and 10 a.m.
Lunch: Between the hours of 12 and 2 p.m.
Dinner: Between the hours of 5 and 7 p.m.
Of course, everyone is different, so finding what works best for you is essential. But if you're looking to slow down the aging process, paying attention to when you eat could be a helpful step. Try out different meal times and see how your body responds.
The Best Evening Snacks that Can Bring Anti-Aging Benefits
If you're looking for a late-night snack that will bring you anti-aging benefits, reach for one of these healthy options.
Yogurt: Yogurt is a great source of protein and calcium, which are important for maintaining healthy skin. Choose plain yogurt to avoid added sugar, and top it with fresh berries or a sprinkle of nuts for extra flavor.
Homemade Trail Mix: This snack is easy to make and can be tailored to your liking. Mix some nuts, seeds, dried fruit and dark chocolate chips. If you're feeling adventurous, you can add some spices like cinnamon or turmeric.
Veggies and Hummus: Veggies are always a good choice, and they're even better when dipped in delicious hummus. Carrots, celery and cucumbers are all great options.
Fruit: Fresh fruit is a sweet and satisfying snack packed with vitamins and antioxidants. Choose fruits that are in season for the best flavor and nutrition.
These snacks are just a few of the many options that can help you avoid late-night cravings while still getting your skin's nutrients to stay healthy. So next time you're feeling hungry after dinner, reach for one of these instead of going for the pizza or burger. Your skin and overall health will thank you!
Conclusion
Studies have shown that avoiding late-night meals can promote your general well-being and have anti-aging benefits. Your longevity may be extended by calorie-restricted diets that reduce caloric intake by about a third. However, there is no clear evidence to support this claim. Some benefits you will likely get if you avoid late-night meals include sleeping better, aging gracefully and lowering your blood sugar levels.