Menopause affects everything from hormone levels and sleep patterns to bone density. One little-known side effect is hair loss. During this period, many women face thinning, shedding and textural changes to their hair. Learn more about why menopausal women experience hair loss and how to counteract this side effect.
What Causes Menopause-Related Hair Loss?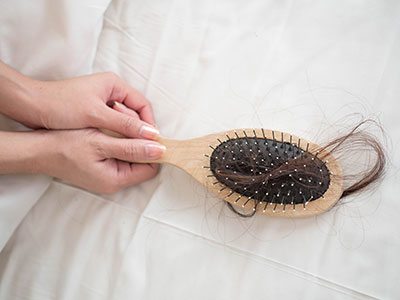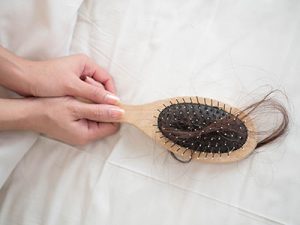 Hormonal changes are the main cause of menopausal hair loss. During this time, female hormone levels start to diminish, which can wreak havoc on the hair. Levels of androgens, or male hormone levels, may rise. While few women suffer hair loss on par with male pattern baldness, the rise of androgen levels can lead to follicular damage.
Hormones aren't the only cause of hormonal hair loss. Many side effects associated with this period in a woman's life can lead to thinning, weakened hair. Menopause can increase stress levels, nutritional deficiencies and thyroid problems, all of which can lead to premature hair loss. Because hair loss can be attributed to a number of issues, it can be difficult to identify the specific cause. Thankfully, however, menopausal hair loss is often treatable.
What Types of Changes Are Normal?
Hair loss isn't always immediately visible. Sometimes, women can lose up to 50 percent of their hair before they get concerned. Some daily hair loss is normal, as it's the standard life cycle of hair. Each strand lasts for about three years before being replaced by new growth. In this healthy life cycle, women lose about 100 strands of hair every day.
However, when women start to notice rapid shedding it may be cause for concern. If they start to see more scalp than usual or notice strands of hair on their pillow in the morning, it could be a sign of more significant hair loss.
What Are the Treatment Methods for Menopausal Hair Loss?
Hair loss can be hard at any time of life. It's especially difficult for menopausal women, as they often have to deal with multiple side effects all at once. There are effective treatment methods for female hair loss, which can help restore women's hair to its former glory.
One of the most popular treatment options is hormone therapy. During the perimenopausal stage, many women are treated with a combination of medications such as pills that lower androgen levels and birth control pills. These medications help to regulate the hormonal changes that lead to hair loss, effectively reversing the hair loss effects associated with perimenopause.
If women only notice hair loss after the perimenopausal period is over, hormone therapy is unlikely to help. In this case, they may have success with over-the-counter hair loss treatments. Minoxidil, which is sold under the brand name Rogaine, is the most effective scalp treatment on the market. It works because the main ingredient, minoxidil, has the ability to repair and regenerate hair follicles. Eventually, a normal hair regrowth process is established, and women are left with thicker, healthier looking hair. To sustain the results, however, users have to keep using minoxidil indefinitely.
Because androgen levels are higher in women who are overweight, healthy weight loss can also be an effective way to minimize hair loss. Achieving a healthy weight can help to normalize hormone levels, thus targeting the main cause of menopausal hair loss.