When women go through menopause, their bodies decrease production of important hormones like progesterone and estrogen. This hormonal shift leads to a number of unpleasant symptoms, ranging from hot flashes to depression. One major side effect of menopause is disrupted sleep.
Why Is Sleep Disruption a Side Effect of Menopause?
Perhaps the most common side effects of menopause are hot flashes. These are one of the main reasons why menopausal women suffer from inadequate sleep. As women try to sleep, they will experience a sudden hot flash, and this change in temperature will interrupt their slumber. Once women enter REM sleep, which happens about 90 minutes after they fall asleep, they tend to sleep more soundly.
How Long Does Sleep Disruption Last?
As one of the side effects of menopause, sleep disruptions can last for a few months to several years. It mostly commonly affects perimenopausal women, who frequently suffer from hot flashes. Once women officially reach the menopausal state, or go a year without menstruating, their sleep will likely regulate itself. Reaching this state, however, can be extremely difficult. Women affected by menopause-related sleep deprivation may feel tired, sluggish, and irritable for years.
What Are the Treatment Options for Menopause-Related Sleep Disruption?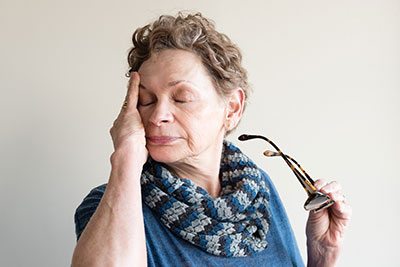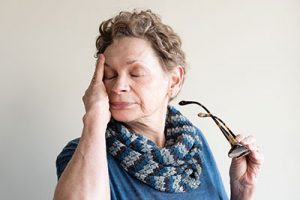 Many women who deal with sleep disruption turn to supplements and hormone therapy. As diminished hormone levels are responsible for menopausal side effects in the first place, taking a low dose of estrogen is well tolerated by many women. This type of therapy minimizes hot flashes, which helps women sleep soundly throughout the night. Another supplemental approach includes taking a pulsatile-release formula of melatonin to create a balanced sleep-wake cycle that mimics the body's natural melatonin production.
There are also practical, non-medical ways to deal with nighttime hot flashes. Women can try lowering the temperature of the room, so that their hot flashes are less disruptive. They can also try changing the clothing they sleep in; wearing lightweight, breathable fabrics can make a big difference.
Other women find success with mindfulness. Yoga and meditation help menopausal women take control over their bodies. Studies show that Yoga helps to decrease hot flashes, perhaps because it's an effective way for the body to release some of its excess heat. The practice of Yoga and meditation can also help to alleviate anxiety and depression, which can also be caused by menopause.
Health Effects
When the body doesn't get enough sleep, it can have grave side effects. It can lead to a number of mental health problems, like depression and anxiety. It can also cause obesity, premature wrinkling, and a lowered sex drive. Too little sleep also leads the body to overproduce the stress hormone cortisol. This can leave women feeling anxious during the day.
Do Sleep Disturbances Exacerbate Other Menopause Side Effects?
As insufficient sleep affects the body and mind, it can also exacerbate other menopause symptoms. For example, sleep loss, when combined with menopause, can make feelings of depression and anxiety more potent.
Menopausal women who are dealing with sleep disturbances or insomnia should talk to their doctor about the best course of treatment. There are a variety of medical and non-medical ways for them to get a good night's rest.