Menopause can impact your mood, your bone density, your muscle mass, your ability to focus and your weight. To reduce your risk of excessive gain during this time, consider some of the adaptations listed below to help keep your weight under control.
Change Your Eating Patterns
If you were used to three meals plus snacks during an average day, consider changing your meal patterns to five snack servings to help with weight loss. Be certain that each snack includes protein and a complex carbohydrate to help you maintain a sense of fullness. If possible, avoid getting too hungry or too full over the course of the day.
Other snack features include plenty of produce for both fiber and nutrients. While you will want to include calcium-rich foods, monitor your dairy intake carefully to avoid bloating and bulk, particularly around the abdomen. Other calcium intensive foods include salmon and green vegetables.
For some women, the shift from regular meals to a steady pattern of snacking can prove challenging. Consider a conversation with your doctor about an appetite suppressant to help you maintain control of your hunger level.
Avoid Alcohol
Alcohol offers no nutrients but adds a lot of calories to your daily intake. If you're trying to reduce the number of calories you have to burn, avoid adding useless calories via alcoholic beverages.
Change Up Your Workout
It's natural to lose muscle mass as you age, but you can fight that loss by changing your workout. If your previous routine included a high level of cardio, work with a trainer to add weights to your routine.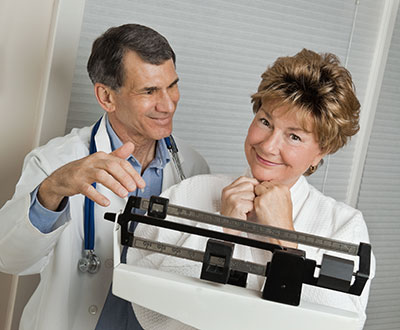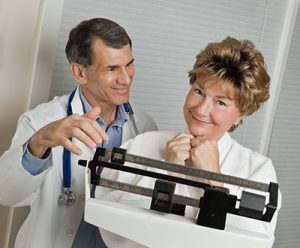 Getting help from a trainer will help you maintain proper form while you move through the paces of a free weight or training machine workout. Proper form will reduce your risk of injury and make it easier to add more weight as you build strength.
Also, consider adding an extra workout time to your daily routine. If your regular workout happens before work, try adding a walk when you get home. Moving your body over your lunch break can burn more calories in the middle of the day and reduce the amount of time you have to eat.
Avoid Creep
It's easy for a few pounds to creep on without worrying too much, but just a few pounds can turn into another size or a permanently uncomfortable tummy bloat. Stay in a regular regimen of weighing yourself and taking your measurements to help you stay within a healthy weight range.
Keep your sugar intake as low as possible to avoid mood and energy swings. As with alcoholic drinks, sugary foods are loaded with useless, empty calories that provide little nutrition but will contribute to weight gain. If weight loss is your goal, strive for healthful choices in every snack and meal.
In addition, consider your energy level. Sleep may be harder to get as you work through the stages of menopause. If you find yourself dragging at the end of the workday, try scheduling a short power nap to help you maintain energy through the evening hours.
Bloat, weight gain and obesity don't have to be part of menopause. It's true that your caloric needs will change, but with careful monitoring of your body weight and an eye toward your activity level, you can change your caloric intake to reduce the risk of weight gain.