They say age is just a number and better defined by your mind. So, how does keeping your mind young by consuming leafy greens sound?
Diet plays a large role on overall health and wellness. Aging bodies require different dietary supplementation to protect against undesirable changes. Complaints of poor memory are not uncommon amongst the elderly, but studies have shown that this loss of short-term recollection can be targeted with the intake of green, leafy vegetables.
The Scientific Research
This loss of memory and cognitive function is commonly referred to as dementia and is a common illness associated with the aging process. Despite the randomness of the disease, this inevitable fate may be effectively delayed with the healthy addition of leafy greens to one's diet. A study conducted at Tufts University found that eating at least one daily serving of greens slows down the rate of memory decline. These greens can include kale, lettuce, spinach, broccoli and so much more. Out of the 1,000 participants included in the study, those who consumed an average of 1.3 servings of leafy greens on a daily basis had much stronger memory power, as if they were 11 years younger, than their cohorts who did not consume as many greens daily.
Another study done by the Rush University Medical School in Chicago found that consuming as little as one-third cups of fresh lettuce daily or one-half cup of cooked leafy greens could work to delay memory loss for years. Even in comparison to other activities, such as exercise and stopping alcohol consumption, eating leafy greens proved to be the most effective in preserving the brain's youthfulness. After all, the saying goes that you are what you eat.
Why Leafy Greens?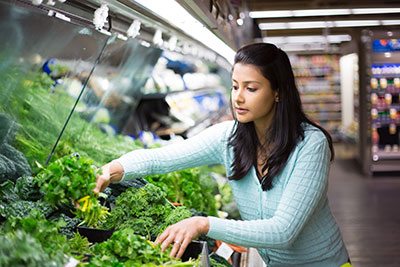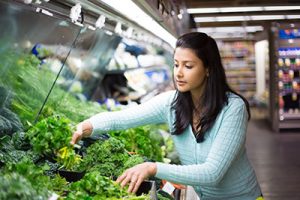 You may be wondering what's so special about leafy greens in particular when there are a slew of other healthy foods across the food pyramid. Leafy greens specifically contain vitamins E, B and K, a combination of nutrients that benefit the brain and are rarely found together in other types of food.
Vitamin E has been found to be effective in decreasing inflammation in the brain. In addition to that, vitamin E also helps to prevent the accumulation of amyloid plaques, in the brain's nerve cells. The importance of this is that a plaque found in the nerve cells of the brain can serve as a hallmark sign for the degenerative brain disease, Alzheimer's.
Leafy greens also contain folate, an important derivative of vitamin B. This nutrient assists in the process of DNA synthesis, a key importance for cell renewal. This allows for a healthy vascular system to keep the blood flowing smoothly.
Additional nutrients found in leafy greens, such as lutein and phylloquinone (also known as phylloquinone) are derivatives of vitamin K. They're classified as antioxidants and do just what their name implies. These nutrients purify the body of dangerous toxins and foster new cell growth, which is important to maintain good health and a sharp mind.
Altogether, this mix of nutrients prevents damage to brain cells and bolsters repair if there happens to be any damage. For those not too keen on increasing their kale intake, these vitamins are also available in supplement forms. However, it is typically recommended to consume these nutrients from their natural counterparts as a start. Incorporating leafy greens into a balanced diet is not only an easy and wholesome way to complete meal times, but also a safe way to satisfy the daily intake requirements of these vitamins and minerals.
The Catch
Although these studies have shown a connection between consuming leafy greens and keeping memory loss at bay, this is by no means a definitive and sole cure. Many factors play a role in the decline of cognitive function and dementia, some of which are controllable, such as lifestyle, and others are not, such as genetics. This means that one cannot consume a bowl of salad daily and expect to remain sharp as a tack, but that's simply a part of the inevitable and universally normal aging process. However, there are no downsides to establishing a standard practice for daily consumption of leafy, green vegetables.
By making this easy change, benefits beyond just brain power can be noticed as other research has found that they can reduce risks of cancer, heart disease, diabetes, and more.