In a new concerning statistic, COVID-19 has been linked to a higher risk of Alzheimer's disease due to the phenomenon known as "brain fog."
It's no new information that the coronavirus that causes COVID-19 can cause a slew of dangerous, and even scary side effects, but one side effect relatively new to the list is brain fog. This side effect affects the brain and causes people to suffer from memory and cognitive problems. It has been found that even a person who has an asymptomatic case can end up struggling with this onset of brain fog after they are seemingly recovered. An even more extensive side effect as a result is that it can also increase one's risk for Alzheimer's.
Memory Problems Similar to Alzheimer's Disease: A Case Study
In one case observation, a woman, who tested positive for COVID-19 in May 2020, is an example of such a situation. She had a mostly asymptomatic case of the virus, with only some shortness of breath. However, she shrugged it off as a combination of anxiety and mask-wearing. In July, she tested negative but began to experience the symptoms of COVID-19. In addition to loss of smell, diminished taste and heart palpitations, the young woman also experienced brain fog.
The problems led her to take a leave of absence from her job so she could enroll in a research clinic. Therapists studied her and her symptoms and gave her several cognitive tests to determine how her brain was reacting to processing information. They learned that over time, she was doing so more slowly than normal.
Fast-forward to over a year past the woman's infection and she finds herself forgetting people's names, putting frozen foods into kitchen cabinets and making errors while driving. All of these COVID-19 brain fog symptoms are reminiscent of Alzheimer's disease.
COVID-19's Association with Alzheimer's-like Symptoms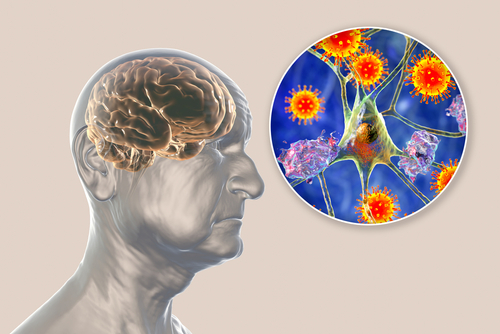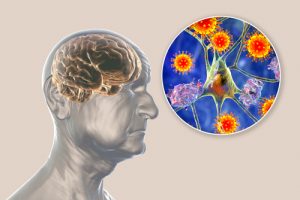 According to a research study conducted by the University of Texas Health Science Center,  COVID-19 infection may have an association with cognitive decline and symptoms of Alzheimer's disease. In fact, the Alzheimer's-like symptoms may mimic a more progressive form of the condition.
The researchers of the study wanted to look into the long-term effects of COVID-19 on the central nervous system and determined that, like Alzheimer's disease, the virus results in brain inflammation. For this study, a group of 200 adults from Argentina who were 60 or over and positive for COVID-19 were observed. It was discovered that individuals who suffered loss of smell as a symptom of the virus for long periods were more likely to have cognitive problems. It also didn't matter how sick a patient was when making this determination.
One of the researchers on the project, Dr. Gabriel de Erausquin, a professor of neurology, noted that participants' cognitive decline, even months after their infections, lingered and was very similar to symptoms that Alzheimer's disease patients regularly experience. He also noted that brain fog appears to be a COVID-19 symptom that is frequently seen in younger patients.
Through detailed observation, researchers found that COVID-19 onset of brain fog can lead patients to experience additional issues, including difficulty concentrating, anxiety and depression. Whether these symptoms will improve over time is topic for further research as time passes and the patients' recovering health evolves.
Biological Markers Linking the Two Diseases
In addition to research determining the onset of COVID-19 induced brain fog, addition research has found another startling discovery: people over 60 who have had COVID-19 have biological markers present in their blood that are the same as those found in the blood of people with Alzheimer's. Researchers have found that the individuals studied in the aforementioned group, who had COVID-19 neurological symptoms had even higher biomarkers linked to Alzheimer's disease. Those markers included tau, a protein related to Alzheimer's and neurofilament light, which indicates damage to nerve cells, among others.
These findings suggest that individuals who have had COVID-19 may have a progression of symptoms similar to those found in Alzheimer's patients. Leading the way to even further research that will be conducted in order to learn how these biomarkers can affect cognition in individuals with COVID-19 or prior infections of the coronavirus.
It was also highlighted that there may be a link between respiratory diseases and the brain in correlation to individuals infected with SARS and MERS in the past who are experiencing cognitive symptoms.
Possible Long-Term Effects?
While this research determines that there are definite and real connections between COVID-19 and Alzheimer's, the long-term effects of COVID-19 may lead to one's risk of developing Alzheimer's. In people already suffering from Alzheimer's, it is determined that COVID-19 infection may exacerbate the progression of their Alzheimer's disease.
With variant cases rising and the continued spread of COVID-19, growing positivity rates serve as a reminder that the pandemic is not over, and more research is still needed to study COVID-19 symptoms, long-haul cases, and the similarities and risk factors for Alzheimer's.