A study reveals sleep has a direct and profound effect on testosterone levels.
Let's face it. Most of us do not get enough proper rest. We are consumed by contemporary era's digital offerings, scrolling through social media pages even in the wee hours of the night.  Then there are those whose profession requires them to work on graveyard shifts. These explain bodily changes that occur such as fatigue, decreased immunity and interestingly, lower testosterone levels in men.
The Science Of Sleep
Sleep is an essential human activity overlooked most of the times. While most acknowledge its beneficial effects, not everyone understands what truly happens inside the body during this period. Is it a mere duration of inactivity? Scientists explain these effects in humans through patterns of brain wave activity and physiological changes.
Some physiological factors are regulated during wakefulness at levels necessary for the proper functioning of the body. This includes our core temperature, resting blood pressure and the levels of gases (oxygen and carbon dioxide) and blood glucose—all of these remain constant during wakefulness. However, when at rest the demands for energy reduce so blood pressure and temperature decrease. These physiological changes occur to prepare the body to enter the stages as seen in patterns of brain wave activity.
Stages
In general, four stages can be recognized in the electrical activity patterns of our brain as measured by an electroencephalogram (EEG).
The first phase commences when you decide to close your eyes. This lasts for about 10 minutes and you can still be awakened easily.  Also known as light slumber, stage 2 is when the actual act begins and it is now a little harder to wake you up; this last for about 20 minutes. Stage 3 kicks in when you are fully dozed. Waking you up is now difficult. Your brain activities have subsided. Stages 1 to 3 are collectively known as NREM cycle, which will be defined later.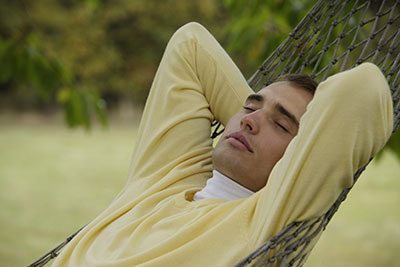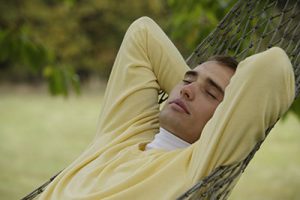 Stage 4 occurs when the brain's activity starts to spike up again. This stage occurs approximately 90 minutes after you go to bed and it culminates when you wake up and are receptive to stimuli again.  Stage 4 is known as the REM cycle.
Neurologists divide it into two main stages: Non-Rapid Eye Movement (NREM) and Rapid Eye Movement (REM).
A significant portion of our bedtime, about 75 to 80 percent, falls under NREM, the period where we fall into our deepest slumber.  It has been found that major body repairs and the peak of growth hormone release occur at this stage.
A person is said to be on the REM stage when there is minimal consciousness to the external environment in the latter part of the period. Experts cannot fully explain the reason behind the rapid eye movements that occur during this stage but some associate these to the internal images seen in dreams. In fact, this is the stage where vivid dreaming occurs due to increased brain activity preceding your waking up.
Thus, a good rest can be attained once a person efficiently goes through the stages without any internal or external interruptions. This is a pressing problem among several aging men who find it too hard to have a good night rest.
What Makes The Stages Relevant To Testosterone Levels?
The premise to the connection between adequate sleep and testosterone levels is straightforward: Testosterone levels increase during rest and peaks prominently during REM cycles. Thus, disrupted rest and nap deprivation significantly reduce testosterone levels. This is where the importance of having regular cycles of rest comes in. It promotes healthy levels of the said hormone.
Testosterone is the primary hormone responsible for the increase in muscle bulk, bone density, and overall physical strength in men. Lower levels may account for a decline in active engagement and physique.
Furthermore, a study reveals that about 40 percent of aging men above 45 years old present with abnormally decreased levels of testosterone. As a person gets older, the stages tend to change. Testosterone production may not reach the zenith as compared during younger years. This, in return, results to further lack of needed rest.
Scientific explanations may be overwhelming at first. One thing is for sure: It is about time we close our eyes early tonight.