According to a recent study, men can expect to see a 1% to 2% decline in their testosterone levels starting in their 40s. And as they start approaching their 50s, most men will begin to experience many of the symptoms commonly associated with low-T (low testosterone), such as impotence, changes in sexual desire, depression, anxiety, reduced muscle mass, less energy, weight gain, and anemia.
Low testosterone can also lead to type 2 diabetes. For those who may not be familiar with type 2 diabetes, it is a chronic disease that is often correlated with obesity or being overweight. It also works the other way around as well,  men who have diabetes are more likely to have low testosterone.
What You Should Know About Low-T and Type 2 Diabetes
One of the primary roles of testosterone is to help tissues in the body absorb blood glucose, which is the sugar that the body makes from the foods that we consume, namely protein and fats. The same blood glucose travels through the bloodstream and provides energy to various cells in the body. And these cells play a critical role in a wide range of bodily functions.
However, these cells are not able to use glucose if the body does not produce enough of the insulin hormone, which so happens to be the case for men who have diabetes caused by low-T or as a result of being obese or overweight.
Along with the many symptoms commonly associated with low-T, many of these men also develop symptoms that are synonymous with diabetes, some of which include:
Hypoglycemia
Diabetic neuropathy
Kidney disease
Cardiovascular disease
Eye disease
Foot problems
Neurodegenerative diseases
Bladder problems
Periodontal disease
Breakthrough Treatments for Men with Type 2 Diabetes and Low-T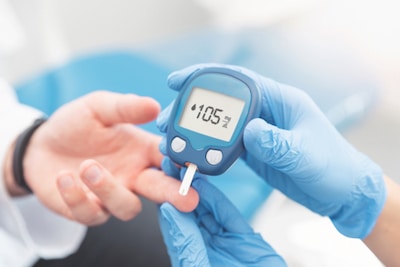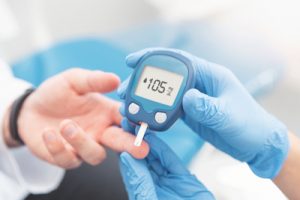 Most men will agree that a diagnosis of both low testosterone and diabetes is the epitome of being dealt a bad hand in life. Fortunately, breakthroughs in modern-day medicine, not to mention science, are making it so that men can move past the challenges associated with both of these health problems and go on to lead healthy, fulfilling lives.
That said, a study published that the same TRT (testosterone replacement therapy) used to treat low testosterone, particularly those that include the use of Androderm, may also improve insulin sensitivity in men who have diabetes.
For those who may not be as familiar with Androderm, was recently named the most effective TRT medication when it comes to helping restore normal, healthy testosterone levels in men. According to a study published by The Journal for Nurse Practitioners, a peer-reviewed nursing journal, Androderm was effective in helping over 92% of patients achieve normal testosterone levels.
Studies Involving TRT and Insulin Resistance in Men with Type 2 Diabetes
It is important to note that studies involving the use of TRT to improve insulin resistance in men with type 2 diabetes, particularly those with hypogonadism, are still ongoing. Nonetheless, most researchers and scientists involved in these studies are confident that TRT will soon become a standard treatment for patients diagnosed with these two serious health problems.
That said, in a randomized and controlled study conducted by the University of Buffalo, which included 81 men with type 2 diabetes, researchers found that taking TRT medications for six months can increase insulin sensitivity by as much as 25%.
It is also worth noting that the study participants included men with and without hypogonadism as well as men who were slightly overweight and those who were characterized as obese. Across the board, all participants experienced significant improvements in terms of insulin sensitivity, which not only helped in alleviating many of their low testosterone symptoms but also reduced their risk of developing diabetic complications.
Overall
Although more research still needs to be done to address safety, efficacy, and long-term results, using TRT to improve insulin sensitivity among men with type 2 diabetes looks quite promising.