Testosterone levels may impact prostate health. The following short blog examines the link between this chief male reproductive hormone and various illnesses, most importantly prostate cancer.
How and When Might Testosterone Impact Prostate Health?
Typically, testosterone does not have a tremendous impact on the prostate—the gland that aids a man's body in performing several sexual and reproductive functions —when a man is otherwise healthy and producing normal levels of the substance. However, as men age, hormone depletion may require that they undergo a medical procedure called hormone-replacement therapy. In addition, growing older increases a man's risk of developing prostate cancer. It is in both of these instances that hormonal levels could prove problematic for the prostate's health.
What Is Hormone-Replacement Therapy?
This endeavor, also called androgen therapy, is usually administered to men stricken with low levels of testosterone, a condition that may set on gradually as the result of age. The average man's bodily concentrations of testosterone decline at least one percent a year after he turns 30 years of age and diminish at an even more rapid rate once the man reaches 40. However, quicker or more precipitous drops can be brought on by medical maladies like hypogonadism, which causes the testicles to produce lower levels of hormones. Additionally, a quicker decrease of testosterone levels can also be caused by various illnesses of the reproductive and/or hormone-producing organs and glands.
Is Hormone-Replacement Therapy Linked to Prostate Cancer?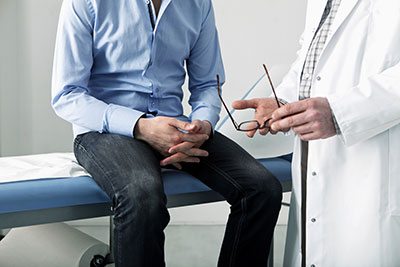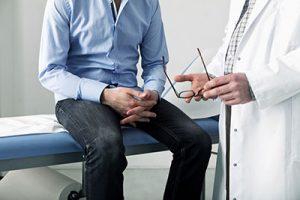 Men undergo hormone-replacement therapy to alleviate and/or eliminate the side effects of diminished hormone production, such as decreased libido, sexual performance struggles, fatigue, anxiety, lack of concentration and depression. Androgen replacement carries with it the risk of possibly dangerous side effects like blood clots and heart disease. In addition, in the past, many healthcare professionals believed the therapeutic endeavor put men at an increased risk of developing prostate cancer. However, scientific studies have tested this hypothesis and concluded that androgen therapy does not place men at any greater risk of developing prostate cancer.
Prostate Cancer
Increasing numbers of those in the medical community agree that androgen therapy does not precipitate prostate cancer. However, health professionals also opine that the hormone poses a threat to men with existing cases of prostate cancer. Research studies have shown that androgen stimulates prostatic cancer cells, potentially resulting in rapid growth and bodily spread of this particular type of malignancy.
In a bit of irony, men with low androgen concentrations are thought to be at a lower risk-level for developing prostate cancer. With this medical fact in mind, men with prostate cancer, including those battling advanced stages of the disease, are often recommended a form of treatment known as androgen-deprivation therapy (ADT) by their physicians. ADT can be administered through several different methods. The most direct form is called orchiectomy, which involves surgical removal of the organs chiefly responsible for a man's reproductive-hormone production—the testicles. Less radical methods of hormone suppression come in the form of various drugs designed to prevent androgens from being produced.