Menopause, also known as "the change," is a major time in a woman's life. The process is a transition from menstruation to a stage of fluctuating hormonal levels and fertility decrease. There are a number of reasons why some women undergo hormone therapy to replace their depleting estrogen. Here is a guide to understanding the role of estrogen when it comes to menopause.
What Happens During Menopause
Menstruation occurs when an egg is released by the ovaries once a month, and failure to conceive results in the shedding of the uterine lining. The pituitary gland releases follicle-stimulating hormone (FSH) and luteinizing hormone (LH). This is followed by the ovaries secreting a hormone known as estrogen to regulate FSH and ensure that only one egg matures in a menstrual cycle.
The aging of the ovaries results in FSH and LH being unable to regulate female sex hormones. This natural decline results in menopause, which is when menstrual cycles stop completely. Just prior to menopause, women will experience irregular periods.
The exact start time of menopause is different for every woman. Some may experience premature menopause, which occurs before age 40 and is caused by ovarian failure, surgical removal of the ovaries (oophorectomy), or damage to the ovaries by chemotherapy and radiation treatment. Women with a family history of cancer in the female reproductive system may choose to undergo a removal of the specific organs at risk of cancer, or even a total or radical hysterectomy.
The Role of Estrogen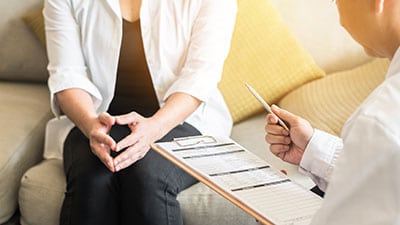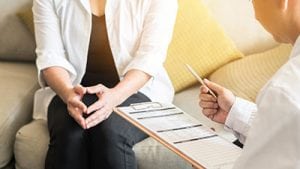 This hormone plays an essential role in the development of female secondary sex characteristics (breasts, hips, pubic and armpit hair) as well as the regulation of the menstrual cycle. Estrogen is an umbrella term referring to three related female sex hormones: estrone, estradiol and estriol. They are all produced by the ovaries. In the case of pregnancy, the placenta produces estriol to control lactation and other changes in the breasts.
Estrogen is also important for:
– blood clotting
– vaginal lubrication and health
– bone formation and rebuilding
– skin, hair, mucous membranes and pelvic muscles
– mood
– memory
– reducing the risk of ovarian cysts
– reducing the risk of liver fibrosis
– reducing the risk of heart disease
– protection against uterine cancer
Symptoms of Menopause
Common symptoms of menopause include depression, osteoporosis, vaginal dryness and atrophy, fatigue, loss of libido, night sweats, sleep problems, memory problems and hot flashes. There are also physical changes, like joint pain, and thinner and drier hair and skin.
Hormone Therapy
The desire to reduce uncomfortable and disruptive menopausal symptoms is the primary reason women undergo hormone therapy. This is usually done by taking estrogen along with progestogen or progestin (progesterone). There is a slight increase in the risk of blood clots and strokes, and sometimes heart disease and breast cancer with hormone therapy. However, it is primarily estrogen that addresses menopausal symptoms. Women who have had their ovaries or uterus removed can rely on it alone, and doing so is also safer.
Whether or not to undergo hormone replacement therapy depends on one's symptoms and health issues. Though hormone therapy can also be used before menopause to address hormonal imbalances, it increases certain risks. There are several delivery methods and dosage options to get the most benefit out of hormone therapy with the least number of added hormones. Although hormone therapy is the most effective way of treating menopausal symptoms, some may be alleviated through lifestyle changes, such as diet and exercise. The decision whether or not to undergo hormone therapy is a personal one that is unique for every woman.