Brain health is a significant concern for many people. Various factors can contribute to brain deterioration or even lead to dementia, and it's essential to be aware of these risks.
One factor that may play a role in protecting our brains from damage is exercise. This article will explore how exercise benefits brain health and what you should know about the connection between physical activity and cognitive function.
1. Reduces Risk of Age-Related Neurodegenerative Diseases
A growing body of research suggests that exercise can reduce your risk for age-related cognitive decline. For example, one study found that women who engage in aerobic activity at least once a week are 40 percent less likely to develop dementia later in life compared to those who are inactive. Another study reported that physical activity is associated with a lower level of beta-amyloid proteins in the brain—one of Alzheimer's disease hallmark signs.
A separate study found that women who engaged in moderate-intensity exercise three times per week were less likely to develop mild cognitive impairment (the precursor to Alzheimer's) over four years compared to those who did not exercise at all. And it's not just Alzheimer's disease that regular exercise can help prevent. Exercise has also been shown to reduce the risk of developing Parkinson's disease and other neurodegenerative diseases.
2. Helps You Stay Mentally Sharp
Not only does exercise help prevent cognitive decline, but it can also improve your cognitive function in the short term. For example, one study found that aerobic activity enhanced participants' performance on a task that involved working memory. Another study reported that resistance training improved mental function in older adults with mild cognitive impairment.
3. Enhances Overall Brain Health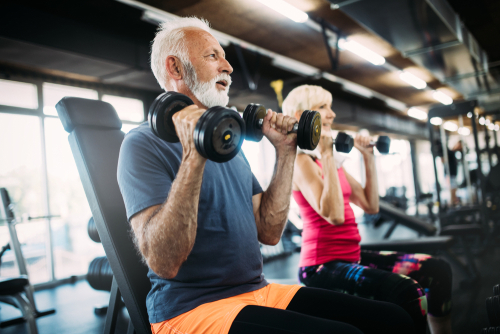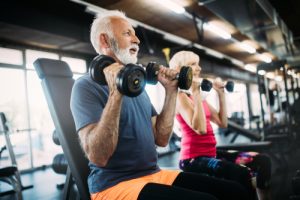 Exercise doesn't just have benefits for specific areas of the brain—it also enhances overall brain health. For example, one study found that participation in a strength training program was linked with increased levels of brain-derived neurotrophic factor (BDNF), which can help to protect neurons and promote neurogenesis.
4. Decreases the Risk of Developing Mood Disorders
Depression is a common mental health condition that can lead to cognitive decline if left untreated. A study showed that physically active people were less likely than inactive people to develop depression. The researchers suggest that part of the reason exercise reduces the risk of depression may be its ability to increase neurotransmitters' activity in the brain.
Participating in regular exercise means having lower levels of inflammation throughout your body, which can help improve your mental health over time. In addition to helping reduce the risk of age-related cognitive decline, aerobic activity has been shown to decrease symptoms associated with depression and anxiety. No matter what type of exercise you prefer—from walking to weightlifting—you'll reap these benefits.
5. Counteracts the Effects of Aging
Studies performed on animal models show that exercise counteracts the effects of aging on brain function. In a study conducted on mice, the hippocampal regions of older mice running for several weeks were similar to those of young adult mice. This beneficial effect is due to increased production and new development of nerve cells in the hippocampus, along with higher neurotransmitters.
6. Increases Oxygen Flow and Enhances Nutrient Delivery
When you exercise, your body releases a hormone called nitric oxide. Nitric oxide causes the blood vessels to dilate, which increases the flow of oxygen and nutrients to your brain. This can help protect your brain cells from damage and improve overall brain health.
7. Great for Your Physical Health
In addition to all of the fantastic benefits that exercise has for your brain function, it's also great for your overall physical health. Exercise helps reduce inflammation throughout your body, lowers your risk of chronic diseases, such as heart disease and cancer, and helps you maintain a healthy weight.
So what are you waiting for? Start including regular exercise in your routine today. Not only will you be improving your mental health, but you'll also be doing something good for your physical health.
Regular exercise is vital for everyone—it can reduce your risk of age-related cognitive decline, enhance overall brain health, decrease the risk of developing depression and anxiety disorders, increase oxygen flow through the blood, enhance nutrient delivery throughout your brain and so much more. Make sure you get your daily exercise in today.