When we age, all bodily functions decrease more and more. This process begins in your early 30s. The gut microbiota is also affected by the aging process. Over time, this leads to a decrease in the number of important microorganisms in the intestine that perform many important tasks. On the other hand, harmful bacteria can increase and cause inflammation. New research in people with a range of risk factors for heart disease has shown that consuming green tea extract for four weeks can lower blood sugar levels and improve gut health by lowering inflammation and reducing leaky gut syndrome. This refers to a disturbed barrier function of the mucous membrane of the small intestine, which means that bacteria and toxins from the intestine can get into the bloodstream and cause inflammation there.
Green Tea Contains Useful Ingredients
Green tea contains an extremely high level of powerful antioxidants. In addition to numerous vitamins, minerals, amino acids, tannins, caffeine and essential oils, green tea is particularly rich in catechins, plant substances that have antitumor, antibacterial and antiviral effects. Catechins are about 100 times stronger than the well-known antioxidant vitamin C and 25 times stronger than vitamin E. In the traditional medicine of China and India, the substances contained in green tea have been used for thousands of years: as a stimulant, for dehydration of the body, for wound closure and heart health. Previous studies have already confirmed positive effects in the fight against Alzheimer's disease, against cholesterol deposits in the blood vessels, certain forms of cancer, against chronic fatigue, in improving the immune system, and better oral health, as well as in weight management.
Green Tea Promotes Gut Health
There's a lot of evidence that increasing green tea consumption is linked to good cholesterol, glucose and triglyceride levels, but the researchers wanted to take a closer look at the effects on the gut. The team conducted the 40-person clinical study as a follow-up to a 2019 study that linked lower obesity and health risks in mice that consumed green tea supplements to improved gut health. In the new study, green tea extract also lowered blood sugar, or glucose, and reduced gut inflammation and permeability in healthy people.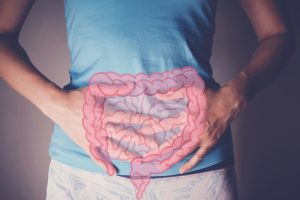 People with metabolic syndrome are diagnosed with at least three of five factors that increase their risk of heart disease, diabetes, and other health problems — excess abdominal fat, high blood pressure, low (good) HDL cholesterol, and high levels of fasting blood sugar and triglycerides, a type of fat in the blood. The insidious thing about these risk factors that make up metabolic syndrome is that they are often only slightly altered and do not yet require drug management, but nonetheless pose a major health risk. Forty participants — 21 with metabolic syndrome and 19 healthy adults — consumed gummy candies containing green tea extract, rich in anti-inflammatory compounds called catechins, for 28 days. The daily dose was equivalent to five cups of green tea. In the randomized, double-blind, crossover study, all participants continued on placebo for an additional 28 days, with no supplements taken for a month between treatments.
Researchers confirmed that participants followed a diet low in polyphenols — naturally occurring antioxidants found in fruits, vegetables, teas, and spices — during the placebo and green tea extract confectionery phases of the study, as recommended, so all results point to the effects of could be attributed to green tea alone. Results showed that fasting blood glucose levels were significantly lower in all participants after taking green tea extract compared to levels after taking placebo. Reduced bowel inflammation due to green tea treatment in all participants was identified through an analysis that showed a reduction in pro-inflammatory proteins in stool samples. Using a technique to determine the sugar ratio in urine samples, the researchers also found that the participants' small bowel permeability decreased positively with green tea. This absorption of gut-derived products is believed to be a triggering factor in obesity and insulin resistance, which are central to cardiometabolic disorders trigger, but possibly reverse them.
Life-Prolonging Effect in People with Diabetes
While there is no silver bullet for longer life, science has shown that long-term consumption of green tea can fight chronic diseases, reduce oxidative stress, and potentially improve your health, which in turn can increase lifespan. According to research, consuming 4 or more cups of green tea plus 2 or more cups of coffee per day for about 5 years is associated with a 63 percent lower risk of death. The risk of developing serious diseases increases with age. This is especially true for people with metabolic diseases such as diabetes. Those with type 2 diabetes are more prone to cardiovascular disease, dementia, cancer and fractures. And despite an increasing number of effective drugs, lifestyle changes such as exercise and diet remain a cornerstone of treatment. But few studies have been conducted in people with diabetes. The researchers therefore decided to investigate the potential effects of green tea and coffee, separately and combined, on the risk of death in people with the condition.
They followed the health of 4923 Japanese (2790 males, 2133 females) with type 2 diabetes (mean age 66) for an average period of just over 5 years. All were enrolled in the Fukuoka Diabetes Registry, a multi-center prospective study looking at the effect of drug treatment and lifestyle on longevity in patients with type 2 diabetes. They each completed a 58-item food and drink questionnaire that included questions about how much green tea and coffee they consumed each day. And they provided background information on lifestyle factors such as regular exercise, smoking, alcohol consumption and nighttime sleep. Measurements of height, weight and blood pressure were also taken, as were blood and urine samples to look for possible underlying risk factors.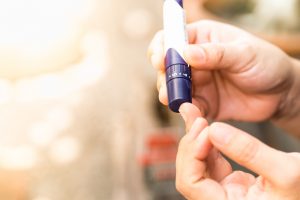 About 607 of the participants did not drink green tea; 1,143 drank up to one cup a day; 1384 drank two to three cups; and 1784 drank 4 or more. Almost 1,000 of the participants did not drink coffee; 1306 drank up to a cup a day; 963 drank one cup a day; while 1660 drank 2 or more cups. During the observation period, 309 people died. The main causes of death were cancer and cardiovascular diseases. Compared with those who did not consume either beverage, those who drank either or both had a lower likelihood of dying from any cause, with the lowest likelihood being associated with consuming larger amounts of green tea and coffee. Consuming up to one cup of green tea daily was associated with a 15 percent lower chance of death; while consumption of two to three cups was reduced by 27 percent. For coffee drinkers, up to one cup a day was associated with a 12 percent lower likelihood; while one cup a day was associated with a 19 percent lower mortality risk. The risk of death was even lower for those who drank both green tea and coffee daily: 51 percent lower for 2 to 3 cups of green tea plus 2 or more coffees; 58 percent less for 4 or more cups of green tea plus one cup of coffee daily; and 63 percent less with a combination of 4 or more cups of green tea and 2 or more cups of coffee per day. Overall, the prospective cohort study showed that greater consumption of green tea and coffee was significantly associated with reduced all-cause mortality.
Green Tea Against Skin Diseases and Sking Aging
Green tea can also positively change the appearance of the skin. Due to its anti-inflammatory effect, it can help with skin diseases such as psoriasis, eczema and acne, counteract skin aging and wrinkling. Researchers have studied the most common green tea polyphenol, EGCG, and its effects on skin. Using pooled human keratinocytes (skin cells), researchers examined normal skin cell growth and compared it to how cells grew when exposed to epigallocatechin gallate EGCG, a substance found in green tea. To their amazement, they found that EGCG reactivated dying skin cells. The skin consists of three layers: epidermis (outer layer), dermis (middle layer) and hypodermis (inner layer). The newly formed cells, called stem cells, are undifferentiated but divide rapidly. As they penetrate the epidermis, they begin to differentiate. During this migration and differentiation process, cells are very active and consume large amounts of energy. Once they reach the skin's surface, their metabolic activity slows dramatically and they prepare to die, forming a waterproof, sheet-like structure. When they die about a month into their life cycle, they are replaced by another wave of migrating cells fed by stem cells, starting the process all over again. But EGCG appears to be a fountain of youth for skin cells. When exposed to EGCG, the old cells in the upper layers of the epidermis appear to divide again. They make DNA and produce more energy. They will be reactivated. In addition, the researchers found that EGCG speeds up the differentiation process between new cells.