Both occasional and chronic inflammation can be detrimental to the body, and the process evolves as we age.
It's unfortunate that something the body is naturally designed to do—protect itself—can also be harmful to our organs and tissues if the process is overworked. Everything moves so smoothly and efficiently when we are young, but how does this change after six or seven decades of effort?
Inflammation in Adolescence
Most of the time during adolescence, the inflammatory process is just a part of the body's natural immune response. Basically, some sort of "invader" is detected by the body, and this could be anything from a dust mite to a deadly virus. The body reacts on a cellular level by releasing cytokines and other hormones to fight off the intruder, and this sets off a chain reaction of helpful responses that involve many of the body's major organs.
This is (usually) completely normal and is an indicator of a healthy immune system. It's critical for the body to work to fend off illnesses or irritants at every level. In these situations, the body will return to its homeostasis in short order.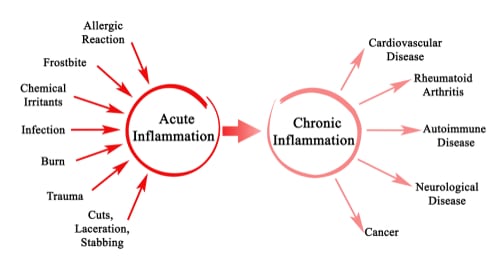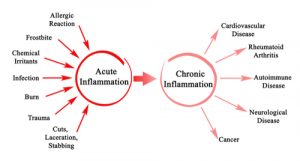 This cycle is harmful when the body suffers from continuous external triggers, such as inflammatory elements in your diet or living environment, and doesn't get a break in between battles. This is why it's important to understand the difference between chronic and occasional inflammation.
How This Evolves Through Middle Age
The situation continues into our 30s and 40s, and we continue to see our bodies work hard to ward off disease, allergens and other "intruders." One of the things to be most mindful of at this time is the length of rest you get in between bouts, i.e., the amount of homeostasis or normalcy you experience compared to when the body is either fighting or recovering from a fight.
Here is where things start to shift for the chronically inflamed. It becomes more obvious as the years add up that certain bodily organs and/or body processes aren't functioning as well as they used to function. This is often directly linked to the amount of inflammation you have suffered from and how your body has responded to it.
The Cyclical Effect of Inflammation
It is unclear precisely how inflammation is intertwined with aging, other than the two are directly connected. Organs, tissues, cells and molecules break down, lose functionality or have reduced structural integrity as the body ages. This leads to more inflammatory responses as the body tries to heal itself.
Meanwhile, the body is aging more rapidly due to the stress it is experiencing because of inflammatory elements. The cycle continues and has a unique effect on individuals based on both their genes and lifestyles.
How It Affects the Elderly
It's important to realize that "getting old" or aging in general is not a disease. As days become months and months become years, our body quite simply gets older too, from the outward appearance of your largest organ, the skin, to your internal organs, and all the way down to the cellular level. So much happens simultaneously as we age for different reasons.
Essentially, these occurrences could be caused by inflammation, they could themselves cause inflammation, or it is most likely a combination of these in a cyclical fashion. What is clear is that an older body is generally more "inflamed" inside and out across the board. But which came first, the chicken or the egg?
A good plan moving forward at any age is to reduce the amount of inflammatory items we introduce to our bodies and to increase anti-inflammatory agents to our systems as much as possible. Most people have heard of antioxidants, which can help combat the aging process in general as well as the inflammation cycle described here. A key to fighting chronic inflammation is to introduce antioxidants regularly throughout life via your diet, any supplements you add and your living environment.