Menopause can cause many different changes within the body, one of which is hair loss. During this time 40 percent of women have been reported to experience hair loss or hair thinning of some extent. This could be during perimenopause, menopause, or postmenopause. Oftentimes, hair loss is one of the first side effects that a woman may notice from menopause. Hair loss or hair thinning can be depressing and have a significant impact on a woman's confidence, femininity, and sexuality.
Causes
Research shows that hair loss during menopause may be due to the lower levels of estrogen and progesterone, stress levels, nutritional deficiencies, and thyroid problems. These hormonal changes can lead to hair thinning, breakage, or hair loss. Hair loss is a normal part of life, yet the loss should not be a large amount on a daily basis. Each hair strand can last from one to three years. So losing around 100 strands a day is said to be normal. When the hair loss becomes of a great magnitude, it may be time to try to minimize and treat the hair changes and damages occurring.
Natural Approaches
There are many natural approaches that you can try to help combat hair thinning and hair loss. Many of these approaches work towards helping to balance hormones during menopause.
Eating a balanced diet.

Eating a balanced diet that is low in saturated fat and full of minerals and vitamins may help to stop hair loss. You should eat plenty of food that helps to encourage hair growth and strength.

Omega 3 and amino acids – pumpkin seeds, canola oil, fish oil, and sunflower seeds
Biotin – eggs and lentils
B vitamins- egg, whole grains, red meat, poultry, and nutritional yeast
Selenium- nuts
Vitamins A and C- dark leafy greens and carrots
Folic Acid – spinach, kale, broccoli, pinto beans, and lentils
Take a daily multivitamin.

You can take a daily multivitamin or supplement to help make up for the proteins and minerals that you may be lacking in.

Biotin, zinc, primrose oil, and flax oil can help to stimulate hair growth.
Regular exercise

. Exercising regularly will help to keep hormones balanced during menopause. This could result in an improvement within hair loss and thinning.

Avoid hot hair care tools.

Try avoiding blow dryers, flat irons, curling irons, and extensions that may cause breakage and dry out your hair. Likewise, avoid putting hair up with ponytails, rubber bands, or other things that may cause breakage. Another thing that may help with hair loss is to avoid washing your hair daily, to let the natural oils build up within your hair. The natural oils are meant to help our hair stay strong.

Try to stress less.

By practicing stress relieving activities, such as yoga or meditation, this may help to balance hormones and avoid hair loss. When your hormones are imbalanced hair loss is more likely to occur.

Drink 8- 10 glasses of water daily.

It is important to stay hydrated and keep your hair follicles well nourished. This will also work to keep your skin healthy and improve blood circulation.

Choose nourishing hair care products.

Try to choose shampoo, conditioner, and hair masks that are designed to help improve and strengthen your hair. Products made for dry or damaged hair will help to nourish and heal your hair.

Herbal supplements.

Taking an herbal supplement like green tea extract may help in reducing hair loss.
Treatment Methods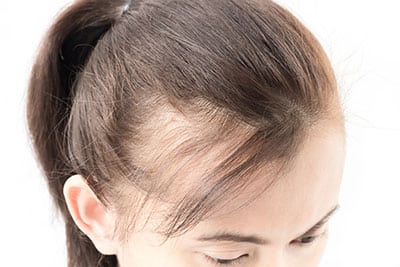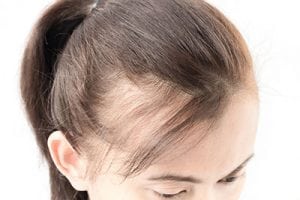 When experiencing hair loss or hair thinning there are many different treatments that your physician may offer you.
Hormone therapy.

Doctors may prescribe things such as androgens or estrogen to help balance hormones during this time period. Birth control may also be prescribed as a hormone therapy to control and balance hormones that may be causing hair loss.

Medications.

The prescription minoxidil solution has been used to help prevent male pattern baldness. The foam and 2 percent prescription is used to help promote hair growth and combat hair thinning in women.

Platelet-rich plasma injections.

These injections are a three-step medical process, where blood is taken from the patient, it is processed, and then injected into the patient's scalp. They are meant to help trigger natural hair growth and increase blood supply to the hair follicle.

Low-level laser therapy.

Research shows that low-level laser therapy may help to improve hair loss. The process uses a comb like laser throughout the scalp to help regenerate hair growth. The laser helps to stimulate hair follicles which then helps to increase the rate of hair growth from the foundation.

Try re-growth solutions.

Over the counter solutions such as Rogaine may be used to treat hair loss. With treatments like this, you need to continue to apply every so often to see long-term results.

Bioidentical hormone replacement therapy (BHRT).

This treatment involves replacing the bodies missing oestrogen and reducing the amount of testosterone within the body due to menopause. This treatment works to help fix what is causing the hair loss and thinning by helping to balance the hormones that have become imbalanced.
If you are worried about hair loss and seeking a way to combat it, it is important to consider talking to your doctor or an experienced hair restoration physician. While natural approaches may work to help improve hair loss and thinning that occurs from menopause, a physician will be able to point you in the right direction for treatment or medication that may be right for you.