As you get older, it is important to stay active and keep your body moving. Walking might also help stem aging's tide.
Effect on the Body
Many fitness experts and medical professionals opine that walking for as little as a half hour per day is among the best forms of physical activity an individual can obtain. This activity is said to elicit numerous health benefits:
Maintaining a Healthy Weight – Walkers often enjoy faster metabolisms, leaner muscles, and a reduced concentration of body fat. Fitness professionals suggest that those who include walking as part of their exercise regimen often lose weight and manage to keep from regaining it.
Cardiovascular Health – The activity is paramount to optimal cardiovascular function. Most types of exercise, but particularly walking, increase blood flow and help the body utilize oxygen with greater efficiency. These two positive attributes combined often precipitate a stronger heart and blood vessels and a lessened risk of associated diseases like heart attacks, strokes and blood clots.
Reduction in Diabetes Risk and Associated Symptoms – A recent study has found that walkers often experience fewer cases of diabetes because the exercise is believed to aid the body in attaining stable blood sugar levels. Additionally, those with diabetes might witness a reduction in associated manifestations.
Improved Mood – Physical activity precipitates the body's release of endorphins. These substances are hormones that affect an individual's mood.
Stress Reduction – Scientific studies have shown that walkers often feel less stress than those who do not partake in the activity. Less stress typically equals better health.
Walking and the Aging Process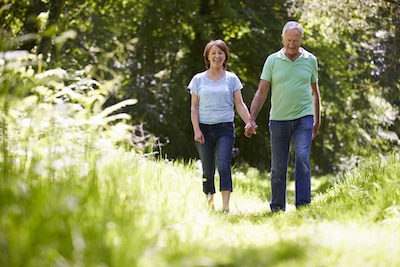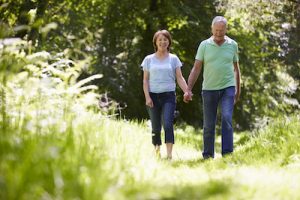 Of the many health benefits walking elicits, many researchers suggest that it might also slow the aging process. As people age, they experience untoward changes like increased blood pressure, thicker blood, hormonal changes and increased body fat. Activity like walking can help stem the advancement of these occurrences.
Additionally, a well-known scientific study found that not exercising regularly can have a profoundly adverse effect on younger persons.
The Dallas Bed Rest and Training Study
In 1966, five 20-year-old men were studied by researchers representing Texas Southwestern Medical School. The subjects were instructed to spend three weeks in bed performing no real physical activity. Though healthy prior to the study, when research was concluded, all of the examinees had increased resting heart rates, diminished capability of the heart to pump, increased body fat and elevated blood pressure.
Thirty years later, the subjects, who all remained healthy, agreed to be studied again. This time, the participants agreed to partake in fitness programs that included walking over a six-month period. Study organizers found that significant health-related readings, such as cardiovascular function and blood pressure, were the same as when the subjects were 20. Such research suggests that exercise might play a part in slowing the aging process.
Deakin University Study
The aging process is particularly tough on an individual's bones in several ways. First, the body is unable to produce bone cells with the speed and efficacy it did during more youthful times. Ergo, bone tissue is often lost, which could leave a person more susceptible to injuries like sprains and even fractures.
Additionally, age precipitates the body's conversion of larger quantities of red bone marrow into yellow bone marrow. Yellow bone marrow has some health benefits. However, red bone narrow is integral to the body's production of red and white blood cells. Diminished concentrations of either of these bodily components can have negative health effects.
Scientists representing Deakin University, an Australian academic institution, found that runners and walkers often enjoy better bone density. Moreover, they found that long-distance runners also often enjoyed a greater concentration of red bone marrow.