Irritable bowel syndrome, IBS, is not something that you will grow out of with time. However, you can find ways to help make living with the condition easier.
What is IBS?
IBS is a functional digestive disorder. This is caused by changes in how your digestive system functions. It is quite a common disorder and is one of the most often seen by doctors. It affects around 20 percent of the population.
If you are suffering from IBS you may notice symptoms such as the following:
Bloating
Constipation
Pain
Diarrhea
Fatigue
Back ache
Doctors will usually diagnose IBS if you have had the issues for at least six months and if they are lasting at least three days in length within the previous three months.
IBS and Aging
IBS is becoming more and more common within people in their seventies and eighties. While many people have IBS throughout their lifetime, the symptoms can appear unpredictably. For many the syndrome begins before the age of 45. Women are twice as likely to experience IBS than men are.
Your digestive tract is comprised of vital organs that are responsible for breaking down food into the components that the body uses. With age, the possibility of something going wrong within the digestive tract rises. This is due to a culmination of years of effect from diet and lifestyle choices, medications, and diseases. As it ages, it is possible for more issues to occur such as irritable bowel disease, Crohn's disease, celiac disease, etc.
As you age especially, lifestyle factors are more likely to affect the digestive tract. Many adults that are over the age of 50 find themselves doing less physical activity. This may be because they are trying to avoid getting hurt or perhaps find that they geet sore or tired very quickly. Anxiety and depression can also contribute to many IBS symptoms as gut and mental health are heavily connected.
IBS and Menopause
Studies have shown that women who are experiencing menopause may in fact experience reduced IBS symptoms. This is thought to be because of the drop in estrogen and progesterone levels.
How to Manage Life with IBS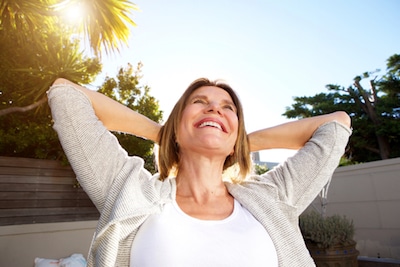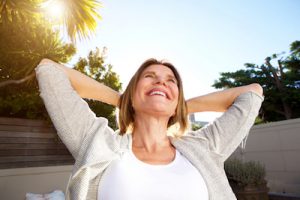 IBS can be managed easily with a few diet modifications, lifestyle changes, and medications. Every person's body is different, therefore there are different triggers and symptoms that can occur depending on what causes your IBS.
Managing Stress. A large trigger for IBS during adulthood is stress and feeling burnt out. It is important to find the time to relax and do something for yourself to help relax your digestive tract and calm you down. If it is hard to find the time to manage your stress, you can try to incorporate daily practices to help keep your stress levels under control. These can look like meditation, yoga or walking, talk-therapy, counseling, listening to music, or even getting a good night's rest.
Improving your diet. In order to help improve your diet maybe look into meal prepping healthy freezer meals for the days you know that you will be too busy to cook. Or perhaps cook large amounts of healthy meals so that you have plenty of leftovers throughout the week. Maintaining a healthy diet will work to keep your energy levels up as you age.

Keep in mind that you may develop new triggers with IBS symptoms when it comes to diet as you age. Your digestive tract is aging as well, therefore causing it to make less enzymes and to become more susceptible to irritants.
Some foods that cause common irritants are milk products, high-gas producing foods, and high-fat foods. Keeping a food diary may help you to figure out what foods are causing you irritation.

Time the time to move. It is important to maintain low to moderate- intensity activities as you age. This could include something simple like walking
Maintain contact with family. For many, with age they may find themselves losing touch with family members. Put in the effort and take the time to maintain strong social networks and support within your group. As your family members or friends to go out for simple tasks, go shopping or for a meal. This will help to keep your spirits up and help with controlling your stress.
Identify your triggers. With IBS one of the easiest ways to manage the symptoms is to identify what triggers your reactions. This could be avoiding a certain type of food, activity, or even too much stress. By taking control and working to avoid these triggers you can work to make your IBS symptoms almost dormant if it is within your power.
Adding probiotics to your daily regime. Probiotics can do wonders when it comes to IBS. A healthy gut is your goal to help manage IBS symptoms. This type of dietary supplement helps to increase the number of healthy bacteria within your digestive system. Studies have shown that just taking probiotics can help to improve IBS symptoms as a whole.
Some doctors may recommend medications, depending on the symptoms that you are experiencing. They may have you try a fiber supplement, laxative, or medication to help reduce anxiety, depression, cramps, or to alleviate diarrhea.
Getting enough sleep. Make sure that you are getting enough sleep as this can help to benefit your digestive functions and health.
When to Talk to Your Doctor
If you are experiencing a recent/sudden onset of the following symptoms, you should reach out to your doctor immediately:
Fever
Unplanned weight loss
Nocturnal bowel movements
Family or personal history of colon cancer
Bleeding or anemia
As you age you are at risk for developing other digestive diseases. By maintaining a well balanced diet, proper exercise, and keeping an open conversation with your doctor about any sudden changes you notice, you should be able to prolong the health of your digestive system even through andropause and menopause.