There is a mystique about testosterone. Its presence is coveted and welcomed; its absence is mourned over and regretted. This hormone represents physical strength, athletic prowess, public confidence and—for males—superior sexual performance. Yet another potential asset of this internally secreted compound is a capacity for life extension.
If recent medical research is any indication, this hormone is key to augmenting longevity and fostering health well into the senior years. The long-standing hypothesis that the sex hormone is tethered to aging suggested that it decreased as years advanced and not that aging accelerated when the biological compound receded.
What is it About Testosterone?
Health-conscious individuals are generally aware of testosterone's more established functions. From governing libido and generating sperm to fortifying bone and promoting muscle growth, the hormone serves myriad purposes in male physiology. A less-known function is its conversion into estradiol, a kind of estrogen. Researchers at the University of Western Australia learned that greater amounts of estradiol correlate with longer telomeres, which are repetitive nucleotide sequences at the terminus of each chromosome.
Lengthened telomeres are associated with healthy cell division and rejuvenated tissue. In short, the longer the telomere, the better protected the chromosome. The possibility of an estradiol-telomere relationship is promising to doctors who specialize in anti-aging.
What Does Estradiol Do?
Though often referred to as a "female hormone," estradiol impacts both male and female reproduction. Derived from cholesterol, estradiol originates in the ovaries of a woman, and it is the dominant form of estrogen during the child-bearing years. From the ovaries, it zeroes in on blood cells and attaches to proteins known as globulin that bind sex hormones.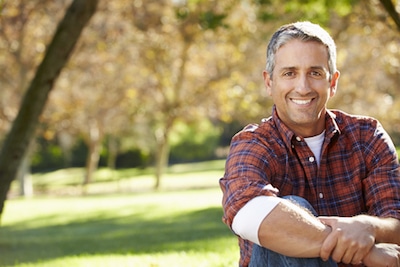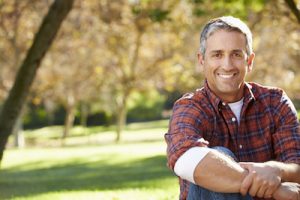 Estradiol then permeates the targeted cell and bonds to the cell's estrogen receptor. Eventually, it reaches the nucleus and its DNA content, influencing genetic makeup. In so doing, it rejuvenates the tissue of the female reproductive organs. It also helps maintain healthy gestation.
In males, estradiol governs libido, erectile behavior of the phallus and the creation of sperm. Additionally, it plays a role in brain triggers for sexual arousal. An abundance of estradiol, therefore, would often yield greater interest, more vigor and better performance in the bedroom. Since estradiol is the result of the enzyme aromatase acting on male testosterone, a wealth of the latter hormone is a prerequisite.
What Is the Estradiol-Telomere Connection?
How exactly, then, does estradiol contribute to longer telomeres? The jury may still be out, but the link is clear by inference. The Australian study reported that only a meager presence of testosterone-derived sex hormones jibed with shorter telomeres in the study sample, 70 to 90-year-old men from Perth, Australia. Short telomeres correspond to a host of health problems like heart disease, diabetes and Alzheimer's.
Is it possible that hormonal therapies will one day defy (or at least delay) the aging process? Further research is needed, of course, but warding off the debilitating conditions that affect millions of senior citizens is a reality worth waiting for.