There have been studies done showing that both men and women can enjoy anti-aging benefits of ginseng. You may want to add this herb to your diet.
Ginseng is an herb that contains certain antioxidant properties. Both the American and Asian varieties can serve as a major health booster in certain areas. If you're getting older or are noticing the effects of aging more, you may want to explore the anti-aging benefits of ginseng.
Skin Rejuvenation
One of the natural effects of aging is wrinkles and fine lines. Too much exposure to the sun's UV rays can prematurely age your skin. Ginsenosides, which are a component of ginseng, can be beneficial to aging skin. One ginsenoside in particular, Rb1, has been found to be capable of promoting the production of collagen and suppressing the death of cells from UV exposure.
Specifically, the Korean type of ginseng showed these benefits.
Antioxidant Effects
An increase in free radicals can contribute to aging. However, one of the anti-aging benefits of ginseng is a restoration of oxidation and reduction of oxidative stress. In an experiment on rats, those that were fed ginseng water extract showed less oxidative damage compared with their counterparts who did not get ginseng.
In addition, older rats given ginseng experienced other notable benefits to their hearts, livers, lungs and kidneys. In a test on memory, older rats showed an improvement as well as benefits on the nervous system and motor function.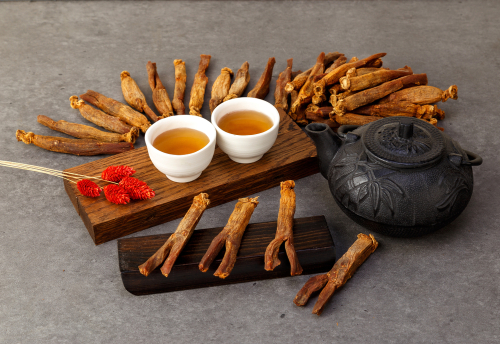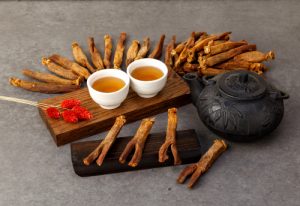 Due to the anti-aging benefits of ginseng on memory that were revealed, researchers believed ginseng can be helpful in fighting diseases like Alzheimer's.
In 2016, there was a study performed on individuals with Alzheimer's disease. The patients were given Korean red ginseng to study their cognitive function. On average, the patients were 75 years old. There were 11 women and 3 men in the study. Each had 4.5 grams of ginseng over the course of 12 weeks.
The results showed that the ginseng helped to improve the function of the patients' frontal lobes.
Increased Energy
Among the most notable anti-aging benefits of ginseng, it's been found that it can help people to receive an increase in energy. One study examined people with chronic fatigue syndrome and found that when they received ginseng, the study participants showed promise.
Another study that was done in 2014 looked at people who were receiving or had received cancer treatments. The participants had fatigue brought on by those treatments. When those who were still undergoing cancer treatments took ginseng, they exhibited noticeable boosts in their energy levels. At the same time, the researchers didn't notice a change in participants who had already completed their treatments.
Treatment of Erectile Dysfunction
Men who have erectile dysfunction have been found to benefit from taking ginseng. In a 2012 study involving 119 participants with mild to moderate erectile dysfunction, it was shown that men had an improvement in their sexual function after being given ginseng berry extract. The study lasted eight weeks, but in spite of notable improvements, it's believed that more research is required to determine whether ginseng is an effective treatment for erectile dysfunction.
Lowers Blood Sugar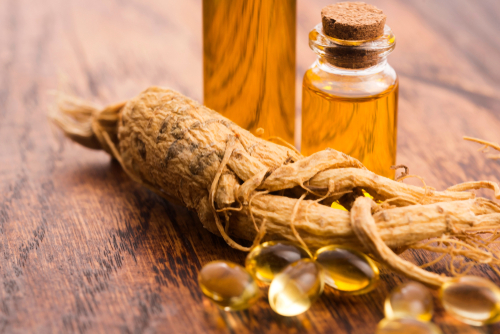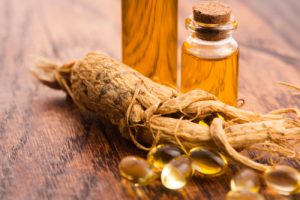 According to studies performed in 2014, ginseng may be effective at lowering blood sugar and even treating diabetes. Ginsenosides appeared to have the ability to affect the production of insulin in the pancreas and improve insulin resistance. In one of the studies, participants took 2.7 grams of fermented red ginseng daily while some took a placebo. The researchers saw that ginseng was effective at both lowering blood sugar and increasing insulin after meals.
More studies are needed to determine whether ginseng should be used along with standard diabetes medication and what doses might work best.
Anti-Inflammatory Properties
Ginseng has been shown to have anti-inflammatory properties, which can help treat inflammation in the body. As people age, they are more prone to inflammation from a variety of ailments. Ginsenosides have been shown to be effective at targeting areas of the immune system that can reduce inflammation.
How to Take Ginseng
There are different ways you can take ginseng to benefit from its effects. While there have not been any standard doses set for taking it, you can take supplements or use ginseng in a few yummy recipes. Here are a few recipes you can enjoy:
Chicken noodle soup: This is a staple chicken noodle soup using chicken broth, noodles, carrots and celery, but with ginseng root added. You can throw in the ginseng root dry directly into the pot before cooking or add it after the soup is already done.
Strawberry pineapple fruit smoothie: This smoothie is easy to make and uses six frozen strawberries, half a teaspoon of vanilla, a cup of milk, a tablespoon of honey, six chunks of fresh pineapple and diced ginseng. Use the blender to mix all ingredients and enjoy.
Chia seed pudding: This dessert requires a quarter cup of chia seeds, one cup of milk, half a lime, a pinch of powdered vanilla bean, a teaspoon of matcha powder, one knob of freshly grated ginger and an eighth of a tablespoon of powdered ginseng.
The anti-aging benefits of ginseng can be seen when you take the herb regularly.