The human vascular system consists of arteries, veins and capillaries in which blood circulates in a specific direction. As the heart pumps blood, the arteries that carry blood around the body also function. The arteries alternately expand and contract, promoting blood flow. This propagation is known as a pulse wave. The walls of the arteries should be elastic enough, but not too elastic, to allow the pulse wave to propagate without tearing the walls of the arteries.
As blood vessels age, the artery wall stiffens. The stiffening increases the risk of cardiovascular disease and cardiac death. Female sex hormones have been shown to influence several factors that regulate the elasticity of the vascular wall, so high estrogen levels are thought to be one of the mechanisms by which young adult women develop a lower risk of cardiovascular disease than their male peers .
Arterial Stiffness and Risk of Cardiovascular Disease

A study conducted at the University of Jyväskylä, Faculty of Sport and Health Sciences, measured arterial stiffness in women of different ages. Increased stiffness is an independent risk factor for cardiovascular disease. Age was a strong determinant of arterial stiffness. As an indication of the role of hormones, the phase of the menstrual cycle, the phase of birth control pills and the state of menopause have also been linked to arterial stiffness. Studies measuring both hormone levels and arterial stiffness in women, which vary based on age or use of hormone products, are rare.
How Female Hormones Affect the Arteries
The study combined two datasets involving young adults and middle-aged women. It enabled a comprehensive study of the different hormonal states in women's lives. The entire study consisted of women aged 19 to 58 years. The older the women were, the stiffer their arteries were. Of the hormones measured, estradiol and follicle-stimulating hormone were associated with arterial stiffness, but age was a stronger determinant of stiffness than hormone levels. Examination of the subgroups showed that hormonal status was associated with arterial stiffness. The attenuation of the pulse wave was faster in the late follicular and ovulatory phases than during menstruation. Women taking combined oral contraceptives had different hormone levels because they take pills containing estrogen and progestin for the first three weeks, and then switch to hormone-free preparations for a week, during which time withdrawal bleeding occurs. While taking the hormone pills, the arteries were more elastic than during the bleeding. Among menopausal women, postmenopausal women on hormone therapy had the stiffest arteries.
Based on this study, the researchers were able to conclude that age is an important regulator of vascular functions, but hormones also play a role in regulating arterial elasticity at different stages of a woman's life.
Simple Test to Check Your Arteries
For older people, research shows there is an effective way to check their arteries. How far you can reach past your toes from a sitting position can actually be an indicator of how stiff your arteries are. A study in the American Journal of Physiology found that in people aged 40 and older, performance on the sit-and-reach test could be used to assess arterial flexibility. Since arterial stiffness often precedes cardiovascular disease, the results suggest that this simple test could become a rapid measure of an individual's risk of early mortality from heart attack or stroke. It is not known why arterial flexibility in the elderly is related to body flexibility. However, one possibility is that stretching exercises trigger physiological responses that slow down the rate of arterial stiffening associated with aging.
Trunk Flexibility: A Good Predictor of Arterial Stiffness
Healthy blood vessels are elastic, and elasticity helps to moderate blood pressure. Previous studies have shown that physical fitness can delay age-related arterial stiffness, although it is unclear how this exactly happens. The authors noted that people who keep fit often have more flexible bodies, and they hypothesized that a flexible body might be a quick way to determine arterial flexibility.
The researchers studied 526 healthy, non-smoking adults between the ages of 20 and 83 with a body mass index of less than 30. They wanted to see whether trunk flexibility, measured with the sit-and-reach test, was related to arterial mobility. The researchers divided the participants into three age groups: young group (20-39 years old), middle-aged group (40-59 years old), old age group (60-83 years old). Researchers asked participants to perform a sit-and-reach test. The volunteers sat on the floor, their backs to the wall, their legs straight. They slowly stretched their arms forward, bending at the waist. Depending on how far they could reach, the researchers classified the subjects as either slightly or highly flexible. They also measured blood pressure and the speed of a blood pulse as it traveled through the body. They also measured aortic pressure in some participants and tested them for cardiorespiratory fitness, muscle strength and endurance.
The study found that trunk flexibility was a good predictor of arterial stiffness in middle-aged and older participants, but not in the younger group. In test subjects who fell into the middle-aged and older category, they found that systolic blood pressure (the peak pressure that occurs when the heart contracts) was higher in low-flexibility groups than in high-flexibility groups.
Stretching Exercises Improve the Flexibility of the Arteries
Why should body flexibility be a good predictor of arterial stiffness? In the study, the authors speculate about the reasons. One possibility is that there's a cause and an effect: The same stretching exercises that give the body flexibility may also slow down the stiffening of the arteries associated with age. The study found that arterial stiffness was associated with trunk flexibility in middle-aged and older people, but independently of muscle strength and cardiorespiratory fitness (as measured by power on an exercise cycle). They also cited another study that found that middle-aged and older adults who began a regular stretching exercise program significantly improved the flexibility of their carotid arteries, a major artery in the neck.
These results suggest the possibility that stretching exercise-induced improvement in flexibility may modify age-related arterial stiffening in middle-aged and older adults, the researchers said, and that flexibility exercises such as stretching, yoga, and pilates as a new recommendation could add to the well-known cardiovascular benefits of regular exercise.
However, there are other ways why physical flexibility should be an indicator of arterial stiffness. One possibility is that it is related to the higher blood pressure observed in the low flexibility group. Another possibility is that the amount of collagen and elastin that makes muscles flexible also makes arteries flexible. More research is needed to understand if there is a cause and effect relationship between flexibility and arterial stiffness.
Substances in Cocoa Against Arterial Stiffness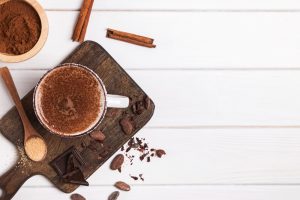 Cocoa bio-substances strengthen the anti-oxidant properties of the enzymes in all body tissues, but especially in the thymus gland. This organ is located in the upper third of the chest and is responsible for producing certain hormones that we need for any immune response. Flavonoids in cocoa slow the conversion of problematic LDL cholesterol into substances that can clog arteries. At the same time, platelets lose some of their ability to clump dangerously.
Cocoa flavanols have already been found to reduce blood pressure and arterial stiffness as much as some blood pressure medications. However, just how effective flavanols are in lowering blood pressure in everyday life has long remained unknown, as previous studies in this area were conducted in strictly controlled experimental settings.
In the first study of its kind, researchers from the University of Surrey investigated the use of flavanols, a compound found in cocoa, to reduce blood pressure and arterial stiffness in people outside of the clinical setting. High blood pressure and stiff arteries increase the risk of heart disease and stroke, so investigating innovative ways to treat such conditions, is crucial.
Lowering Blood Pressure
11 healthy participants alternately consumed either six cocoa flavanol capsules or six brown sugar placebo capsules over several days. Participants were fitted with an upper arm sphygmomanometer and a finger clip that measures pulse wave velocity (PWV), which measures the degree of arterial stiffness. Blood pressure and PWV measurements were taken before consuming the capsules and every 30 minutes after ingestion for the first three hours, and then every hour for the remaining nine hours.
The researchers found that blood pressure and arterial stiffness were reduced in participants only when they were high, and there was no effect when blood pressure was low in the morning. Notably, effects were also noted eight hours after consuming cocoa. Researchers think this second peak could be due to how bacteria in the gut metabolize cocoa flavanols.