Fluctuations of testosterone could have an adverse effect on lung function. However, researchers may soon be able to effectively treat certain lung diseases such as COPD and asthma by using this important. hormone.
What is Testosterone Responsible for?
Testosterone, which is primarily regarded as the chief male reproductive hormone, executes several important bodily functions in both men and women, although to a lesser degree in women. The substance is known for stimulating the growth of male sexual and reproductive organs, driving the libido (sex drive), building muscle and bone mass, fostering the reproductive process, promoting hair growth and generating systemic concentration of red blood cells. Additionally, the hormone has found use as a therapeutic agent.
Testosterone and Lung Function
Scientists have discovered that the chemical can prove beneficial to both men and women stricken with various lung or breathing disorders:
Asthma
Asthma is a relatively common yet potentially serious lung ailment caused by inflammation of the organ's breathing passageways. Individuals afflicted with this malady experience a host of respiratory symptoms such as coughing, excessive systemic production, secretion and expulsion of mucus, chest tightness and wheezing. During acute manifestations of the illness, individuals can experience significant episodes of wheezing or breathing difficulties that might necessitate medical intervention.
Asthma Study
Researchers representing the Johns Hopkins School of Medicine studied the effect testosterone had on laboratory mice. The scientists hypothesized that the release of estrogen, another reproductive hormone, might precipitate the onset of asthma symptoms. They also opined that testosterone could counter estrogen's impact and keep untoward symptoms at bay.
The theory was tested on castrated mice. The researchers first injected the mice with testosterone pellets and then with asthma-inducing substances. The results showed that the mice experienced a reduction in asthma-like symptoms. The researchers suggest that these findings might one day lead to testosterone as an acceptable asthma treatment. However, they believe that much more research will be necessary (particularly on human subjects) before any definitive conclusions can be drawn.
COPD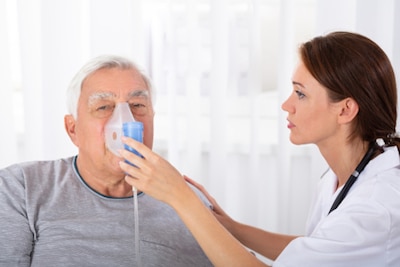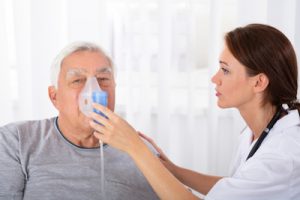 A team of researchers representing the Medical School at the University of Texas at Galveston opine that testosterone might have a positive effect in those who suffer from chronic obstructive pulmonary disease, often abbreviated simply as COPD. COPD is not one specific disorder. Rather, the syndrome describes several maladies that impact lung structure and function.
One such ailment is emphysema, which causes an abnormal growth of air sacs (alveoli). This occurrence results in less oxygen entering the blood and stricken persons experiencing shortness of breath and a host of other respiratory symptoms. Another form of obstructive pulmonary disease is chronic bronchitis in which afflicted individuals experience continually irritated and damaged airways resulting in numerous untoward manifestations.
Study Results
The researchers studied the impact testosterone therapy had on men aged 45 and older. Specifically, more than 700 men ranging in age from 40 to 66 were studied. These men had received testosterone therapy between 2005 and 2014. The examiners found that men who had undergone this treatment protocol experienced a decrease in COPD-related hospitalizations by more than four percent. As with the previous study, the scientists suggest that more research must be conducted before results could be considered definitive. However, they claim that this form of hormone therapy could be considered a possible treatment for COPD.