As we age, we are faced with the reality that our inner and outer bodily functions don't work the way they used to. Because of this, there are countless anti-aging products on the market promising our youth back. Unfortunately, many of these products can be expensive and some can even cause adverse side effects.
If you're searching for a natural way to reduce the signs of aging, there's one natural ingredient that can help you hold onto that youthful glow: Aloe Vera. Aloe Vera is a plant that can be identified by its succulent-like appearance and has a regular position in the healthy beauty care conversation. In fact, historical figures such as Christopher Columbus, Cleopatra and Nefertiti partook of the benefits of Aloe Vera.
Whether you're a middle-aged man or woman, if you are curious about the benefits of Aloe, here is an introductory look into some of the plant's benefits when it comes to improving your anti-aging regimen and how to use it in your daily routine.
Anti-Aging Benefits of Aloe Vera
1. Vitamins for Youthful Skin
Aloe Vera leaves contain a variety of nutrients including vitamin A, a beta-carotene; vitamin C, which helps boost the immune system; vitamin E, known for its anti-aging benefits; folic acid, which aids in the development of healthy skin cells; and numerous B vitamins, which help with the body's detoxifying processes. The combination of these vitamins along with other Aloe Vera compounds have been found to help reverse and repair damaged cells and aid in a number of health benefits to support a youthful appearance.
2. Anti-Stress Minerals and Compounds
What many people don't know about their skin is that stress can play a large role in how the skin appears. Luckily, Aloe Vera contains magnesium and malic acid, which is referred to as an anti-stress mineral. By aiding the body's detoxification process, Aloe Vera gel can help improve the skin's ability to get adequate amounts of collagen and restore its natural elasticity.
3. Reduced Skin Damage
Both your immediate environment and things you ingest can increase free radicals, which damage healthy cells throughout your body, including skin cells. Aloe Vera contains antioxidants, which help combat free radical and oxidation damage. When applied topically, Aloe Vera improves fibroblasts, which reduces wrinkles and restores your skin's elasticity. In addition, Aloe Vera has a high number of mucopolysaccharides, a hydrating molecule that keeps moisture in the skin and protects the skin from appearing dry or falling prey to premature wrinkles.
4. Hair Growth Support
Aloe Vera contains an ingredient known as proteolytic enzymes, these enzymes are able to help repair dead skin cells on the scalp. With a chemical makeup similar to keratin, Aloe Vera aids in rejuvenating the hair, promoting hair growth, reducing dandruff, and preventing hair breakage.
5. Hydration and Detoxification
If you've ever dealt with Aloe it is easy to understand how the plant is very water-dense. Because of this high water-density, Aloe Vera is an ideal way to prevent or treat dehydration, a common risk at any age, but increased the older we get. With the added hydration measures, the body is able to properly detox and flush out impurities and toxins through the kidneys and liver.
Other compounds such as amino acids found in Aloe Vera can also soften the epidermal layer of skin, giving it a softer texture and appearance. And for those with scar tissue or age spots, the regular use of Aloe Vera can help break down the damaged tissue which can also make the skin appear brighter and healthier.
How to Reap the Benefits of Aloe
Aloe Vera is very easy to find. Commercial brands sell Aloe Vera gel as well as juice that can be used or ingested. Likewise, Aloe Vera leaves can often be purchased from a healthy food store or in the produce section of many grocery stores. In addition, you can keep an Aloe Vera plant in the garden or in your home for easy harvest availability as you need it.
Harvesting: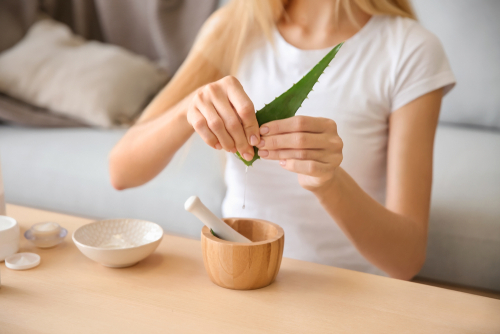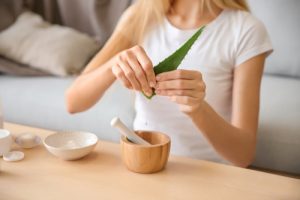 For harvesting Aloe Vera gel yourself, using a sharp knife, carefully cut a leaf from your Aloe Vera plant, getting as close to the stem as possible. After rinsing and drying the leaves, sit the leaf with the cut end facing down to help drain the latex from the plant. The latex is the yellow layer between the leaf skin and the gel that can irritate your skin or digestive system.
Once clean, carefully cut the prickly ends off the sides of the leaf. Next carefully cut the leaf through the gel center in half. Scrape the gel from the leaf sides, removing any remaining yellow latex and place in a cup for use. If you want to get rid of the extra pulp, blend the gel and pour it through a mesh strainer.
Internal Use:
For ingestion, you can eat the gel as is, blend it with water to make Aloe Vera juice, or add the gel to foods such as smoothies, sauces and dressings. For those who are not partial to the flavor of natural Aloe Vera, adding the gel to food or even mixing it with water and lemon juice can help mask the taste for a more pleasant experience.
Ingredients:
1/3 C sugar
2 ½ C water
12 oz Aloe vera gel, blended and strained (if desired)
¾ C lemon juice
Fresh mint
Directions:
To create a simple syrup, combine the sugar and ½ cup of water in a small saucepan over low heat. Stir until the sugar is completely dissolved and remove from heat.
Pour the simple syrup, Aloe Vera gel, lemon juice, and remaining water into blender with a small handful of fresh mint. Blend until smooth. If you'd like, add additional sugar or lemon until you have the taste you desire.
Pour the mixture through a fine mesh strainer to catch any large pieces of mint or lemon pulp, and serve over ice, or blend ice into your lemonade for a shush texture.
Ingredients:
¼ C Aloe Vera gel, blended and strained (if desired)
1 banana
½ C strawberries
¼ C blueberries
¼ C ice
1 ½ C coconut Milk
Directions:
Place all the ingredients in a blender and blend until smooth and creamy texture is acquired. If you'd like, add additional coconut milk if it is too thick or add a sweetener of choice if it's not sweet enough for you.
Pour into a cup, adding fresh fruit or shredded coconut for garnish, if desired, and enjoy!
Ingredients:
2 Fresh tomatoes
½ Jalapeño, chopped (seeds optional)
3 Fresh baby marrow
1 Garlic clove
3-4 Tbsp. Aloe Vera gel
1 C Fresh coriander, chopped
1 Fresh squeezed lime
¼ Diced onion
1 tsp kosher salt
Directions:
Add tomatoes, jalapeño, baby marrow, garlic and Aloe Vera gel to the blender and blend until paste-like texture is reached. Feel free to add more jalapeño to taste.
Add the blended mixture to a bowl and mix in the rest of the ingredient to maintain a chunky style salsa. If a smoother texture is desired, add all ingredients to blender and combine until desired texture is reached. If you'd like, add more salt, garlic or lime to taste.
Topical Use: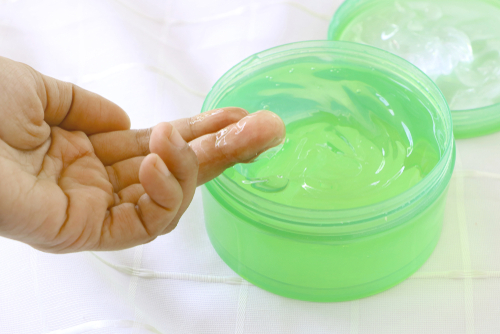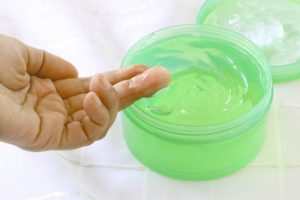 If you prefer to apply Aloe Vera gel topically, consider applying the gel directly to the skin to treat burns or skin concerns, adding it to your facial masks, blending it with water for a refreshing skin mist, or infusing it with your favorite carrier oil.
If you choose the infusion method, health experts highly recommend the double boiler method. The double boiler method uses a pot of boiling water with a heat safe bowl on top of it containing the carrier oil and gel. This method helps maintain the anti-aging nutrients in both the oil and gel as they fuse together. Once cool, apply the infused oil to clean skin or hair for optimal results.
Ingredients:
Vitamin E (capsule or ¼ tsp oil)
1 Tbsp. Aloe Vera gel, blended
¼ tsp Coconut oil
Directions:
If using vitamin E capsules, puncture the capsule with a pin and squeeze the oil into a small bowl. Otherwise just add 1/4 tsp vitamin E oil to bowl.
Using a spoon, mix in Aloe Vera gel and coconut oil until well combined.
Lightly dab a small amount of the mixture to the skin surrounding the eyes – apply nightly before bed.
Ingredients:
1 large Aloe Vera leaf, gel removed and blended
2-3 Tbsp. raw virgin coconut oil
Directions:
Add both ingredients to the blender until texture is pure liquid.
Pour into a spray bottle and spray onto skin and hair as a moisturizing treatment as often as desired.
Ingredients:
½ Tbsp. Milk
½ tsp pure honey
2 Tbsp. Aloe Vera gel, lightly blended
1 Tbsp. sugar
Directions:
In a clean bowl mix all milk and sugar until well combined.
Add Aloe Vera gel and honey to milk and sugar mixture and stir well.
To apply, clean and dry your face, then add the mixture by massaging it onto your skin in a circular motion. Leave the mask on your skin for 15-20 minutes, leaving the mixture untouched during this time. To remove the mask, wash your face with lukewarm water and pat dry.
Who doesn't want healthier looking skin and hair? By incorporating Aloe Vera into your wellness regimen, you can look and feel younger from the inside, out. Whether you buy or harvest your own, be sure to always use high-quality Aloe Vera gel and explore the possibilities with this natural anti-aging plant.