Menopause; one of the many natural changes women experience, is a result of hormone fluctuations and the cessation of the menstrual cycle. Among the hormonal shifts included is a natural decrease in estrogen levels. This decrease in estrogen can have a number of side effects on the body and studies show it can even increase the risk of both arterial and venous thrombosis, simply known as blood clots, especially if other risk factors for clotting are present.
As a result of estrogens role on blood clot risk, there are certainly additional risks associated with menopausal women with pre-existing blood clot conditions, undergoing hormone replacement therapy (HRT).
Menopause and Perimenopause Blood Clots
For women experiencing menopause or perimenopause, it's essential to be aware of the link between these stages and the formation of clots. Though clotting is a natural process that helps protect from injury, when clots form in the circulatory system (especially in the veins), they can cause serious problems.
Reproductive History and Venous Thromboembolism Risk
Using pooled data from the Women's Health Initiative HT clinical trials, studies found that postmenopausal women are at an increased risk for developing clots, especially if they have a history of venous thromboembolism. In addition, increased levels of estrogen and progesterone in postmenopausal women can add additional risk to the occurrence.
Additional research finds that postmenopausal women are more likely to develop clots in the veins near their lungs. As a result, serious complications such as pneumonitis (inflammation of the lungs) and even death can occur when not properly treated or monitored.
Overall, compared to women between the ages of 40 and 49 years at menopause onset, those with early menopause (prior to 40 years old) or with late menopause (after age 55) had a significant increased risk of venous thromboembolism. Therefore, postmenopausal women should keep track of their reproductive history, to seek treatment if any symptoms of venous thromboembolism are experienced, such as chest pain, shortness of breath, or severe leg pain.
Menopause Treatments May Increase Blood Clot Risk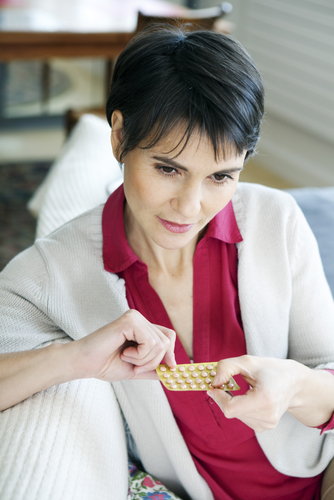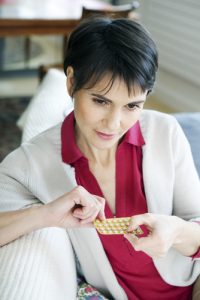 One study found that women who underwent specific tablet menopause hormone therapy are 58 per cent more likely to develop a blood clot within 90 days than those who hadn't taken the hormone replacement therapy (HRT) tablets.
The study authors say that the link between menopause and the formation of blood clots is likely due to changes in how hormones influence the body's clotting ability. However, they add that further research is needed to determine whether reducing the risk of clots by using HRT or other interventions is beneficial for women experiencing menopause.
Ultimately, it is found that there is a small but significant risk for blood clots in women using hormone therapy, a risk that is much lower for healthy postmenopausal women.
Risk Factors for Blood Clots
While estrogen is a primary concern, the definitive link between menopause and blood clot formation is still vague, however there are several risk factors that have been found that may increase the risk for blood clots during menopause or perimenopause.
Age: While blood clots can occur at any age, there is an increased risk the older one gets. The older you are, the more likely you are to develop clots due to changes in health, an increase in sedentary lifestyle, and onset of addition risk factors and health condition.
Weight: Like most heart concerns, being overweight increases the risk of blood clots as well, as blood flow and cardiac health go hand in hand. Likewise, weight gain during menopause is common and may be caused by a variety of factors, including hormones and lifestyle. Thus, adding to the list of risks and complications that may lead to blood clot occurances.
Diabetes: It has been found that having diabetes can increase the risk for blood clots. For women going through menopause, this can be a concern as decreased concentrations of reproductive hormones can impact how the body's cells respond to insulin, thus fluctuations can lead to the onset of diabetes if not properly monitored.
History: Causes of excessive blood clotting can be acquired, genetic or the result of an underlying condition. Regardless of the cause however, previous history of clotting can increase the risk of recurrent clots.
Smoking: Though not a side effect of menopause, smoking cigarettes can also increase your risk of developing clots, this is because the number of blood platelets is increased, thus creating a greater risk of clumping together and forming a clot.
Is There Cause for Concern?
While the link between menopause and the formation of blood clots is still being studied, there are a few things that can be done to help keep the risk as low as possible.
Speak with your doctor about your concerns about HRT and blood clots.
Monitor your blood pressure and cholesterol levels closely during menopause and during treatment.
If you experience any unusual symptoms such as chest pain, shortness of breath, or swelling in your leg, get in touch with your doctor immediately.
Currently Taking HRT
If you are currently taking HRT, it's important to talk to your doctor about your risk of blood clots. Your doctor may want you to have regular blood tests to monitor your risk for blood clots. Modern HRT is quite different from some of the internet's twenty-year-old data. Refinements to the therapy have shown a significant decrease in risk. Keeping an open dialogue with your doctor and addressing any concerns during therapy is vitally important.
Never stop taking HRT without first talking to your doctor, as abruptly stopping HRT can increase your risk of other health-related issues.
If you are considering starting HRT, talk with your doctor about your risk of blood clots.