When it comes to aging, the ability to age gracefully is something all women, and even men, want, but the truth is, few individuals learn how to implement it properly. When discussing the topic of efficient aging with our friends and coworkers, we often come to the same conclusion: it's something outside of our control, and the aging process is entirely dependent on our genetics. While some of these remarks hold merit, there are tried-and-true techniques and methods that can be utilized to retain some aspect of youth as we age.
The Art of Aging
Whether you're just entering your 40s or are wanting to liven up your "look" in your senior years, looking and feeling our best is always a priority. Luckily, beauty researchers, skin-care professionals and anti-aging specialists have developed the techniques, lifestyle strategies and products that improve your complexion, boost your youthful glow, and aid in healthy aging so you can be well on your way to embracing the art of aging gracefully.
But don't be fooled, aging gracefully is more than just trying to maintain firm skin and a wrinkle-free complexion, it's about living your best life and having the physical and mental health to enjoy it every step of the way. Here are 23 tried-and-true tips for aging gracefully on the outside, as well as on the inside.
1. Hydration is Key
As we age, and approach our senior years, our risk of having serious complications as a result of dehydration increases exponentially. Because of this, it is no surprise that the most effective skincare and anti-aging product on the planet is free! Drinking water in adequate amounts is the single-most efficient way of making your skin look amazing, and your body feel properly hydrated. If you're avoiding water for whatever reason, we highly encourage you to increase your intake, adds some flavors and start hydrating. To build up your body's routine to proper hydration levels, check out our 30-Day Hydration Challenge.
2. Build a Regular Moisturizing Routine
If you've begun seeing fine lines, wrinkles and discoloration developing out of nowhere, moisturizing is going to be your best friend. As our skin ages and the body's natural oils and hydration declines, our skin is left vulnerable to patches of dryness, especially around the cheeks, the forehead, the eyes and the neck. When left unaddressed, the already dry and damaged skin can develop age marks and blemishes. Applying regular moisturizers can help lock moisture into the skin to keeps it hydrated and slow the look of aging. When in doubt, moisturize it out!
3. Don't Skip on Exfoliation
While scraping off the outermost layer of your skin sounds alarming, it's an essential component for aging gracefully. When we remove the epidermis with scrubs, lasers or chemical peels, we force our system to produce healthy collagen and repair the damage. By doing so, our skin becomes soft and supple and can hold onto that youthful glow once more.
4. Catch Your Z's
Listen up: although we're tough and capable of anything put in front of us, operating on 3, 4, or 5 hours of sleep is far from ideal! Instead, aim for 7.5 to 8 hours of high-quality rest and slumber. Aside from impacting our cognitive abilities, lack of sleep can also play a role on our skin's appearance and our overall health. And if you're having trouble getting to sleep, purchase some blackout curtains, shut off your cell phone and other devices an hour before bedtime and take a high-quality melatonin supplement in a pulsatile formula.
5. Cut Back on the Sugar, Add More Vitamin C
When we consume sugars, it forms compounds called advanced glycation end products (AGEs). By linking up with collagen and elastin, these AGEs cause changes in the skin that can make it look older than its time. So, when it comes to your dietary snack options go, ditch the sugary candy, soft drinks, and added sugars and trade them in for nutrient-dense fruits. As a rule of thumb, stick with fruits that are overflowing with vitamin C, such as oranges, lemons, limes, mandarins and grapefruits, all of which can play a vital function in the production of pro-collagen due to their vitamin C content. In large dosages, this vitamin helps your system produce collagen to heal inflammation, cellular damage and hyperpigmentation.
6. Enjoy a Stress-Free Life
To put it bluntly, you need to cut out toxic environments and variables from your life that cause stress and anxiety to mount. Whether you realize it or not, these problems wreak havoc on the skin, biological processes, and expedite the aging process. Studies have even found that as we age, our bodies begin to gradually lose the ability to effectively cope with the physical and emotional stress. Although it's easier said than done, getting rid of damaging relationships and environments, or simply finding natural stress reduction techniques is an essential component of maintaining a youthful life.
7. Sun Protection Factor (SPF)
While most of us love getting out into the sun when the weather permits, sun damage is the leading cause of premature aging and serious skin conditions, such as cancer. Damage from ultraviolet (UV) sunrays can precipitate serious skin issues, particularly as we age, leaving the skin and our health susceptible to premature aging and damage. The next time you head out into the sun's rays, make sure you're wearing a product that contains an SPF of 30 or higher.
8. Enjoy Regular Massages
Although we don't think you need an excuse to schedule a massage, now you have one: massages are beneficial for aging health. Some forms of anti-aging treatment, such as medications, may cause unwanted side effects, but proper massage therapies can be vital for driving blood and nutrients throughout the systems in your body that can benefit brain function, joint health and even decrease inflammation. If you plan on maintaining your youthful appearance and functionality for years to come, getting regular massages can help you along the way.
9. Boost Your Brain Activity
As we grow older, the brain changes in many ways. In general, these changes result in impaired brain function. Since no one wants to look great but feel mentally drained and fatigued, it's important to focus on improving your brain's capacity. Along with a healthy diet and regular exercise, be sure to practice mental stimulation as well. try learning a new language or challenging skills, engage in art, literature and intellectual pursuits. Although it may be burdensome to manage at first, these activities will keep your brain vibrant and active and improve your odds of aging gracefully.
10. Get Social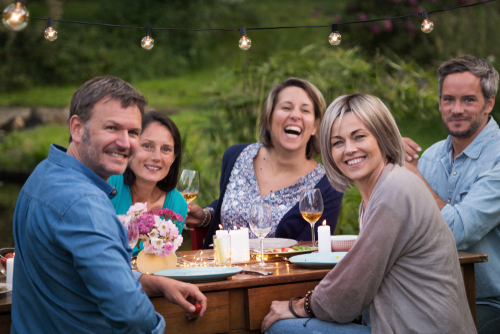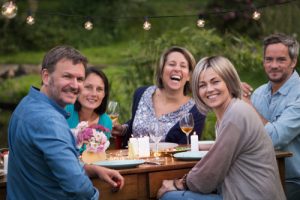 It's a fact, individuals who have an active social circle with whom they meet regularly live longer than their loner counterparts. When you have a social event or gathering that you're looking forward to at the end of the week or month, your physiology and mental acuity heighten, and even improve the immune system and decrease risk of depression. Even a 2017 Pew Research study showed that simply using social media to connect with friends and family greatly improved the mental stamina for older adults.
11. Exercise
Besides water and healthy food choices, exercise is going to be your new best friend as you age. Studies show that individuals who exercise regularly live longer than couch potatoes. On top of that, incorporating a regular exercise regimen into your life can help strengthen your bones, improve cardiovascular health, stabilize blood sugar levels and maintain healthy cells, ultimately slowing the aging process at a cellular level. So, get in the gym and work up a sweat! Trust us — you'll be thankful you did, and if you're looking into how to start a new routine, we've got you covered with complete steps to start a new fitness habit later in life.
12. Practice Gratitude
One factor that can be seeing among all individuals who remain youthful into the latter years of their life is how grateful they are for their blessings. Whether your life has been a piece of cake or challenging, there are events scattered through your day to appreciate and ponder over, and gratitude can be a helpful instrument in your graceful aging toolbox. If you're having trouble identifying these events, start writing in a gratitude journal or take a moment to learn more about the physical impact a positive mindset can have on aging health.
13. Eliminate Harmful Behaviors
Your choices impact your health and your body's aging process, and some actions, such as smoking, drug abuse and alcohol consumption, are a recipe for premature aging. If you find that you tend to rely on these habits to get through a tough or challenging day, or simply partake of certain unhealthy habits on a regular basis due to routine, you might want to reconsider your choice in habits if aging gracefully is a concern to you.
14. Routine Checkups
While visiting a doctor is never a rousing endeavor, it's an essential component for looking and feeling your best. Moreover, regular checkups are an essential part of healthy aging and will help catch irregularities or even potential life-threatening medical problems before they get out of hand. If you're not visiting your doctor on an annual or bi-annual basis, consider scheduling an appointment.
15. Oral Hygiene
Did you know your gums and teeth are related to your internal health? Individuals who skip flossing, brushing and rinsing with mouthwash are more likely to suffer from more than gum disease, studies show that poor oral health can impact risk factors for stroke, heart attack and pneumonia. But maintaining a brushing schedule is not all you need as you age, as men and women get older and hormone levels fluctuate and change, which can play a direct role on your oral health as well. Thus, maintaining regular oral health practices such as brushing, flossing and regular dental checkups is essential.
16. Take "Fun" Seriously,
Although we're capable of structuring our weeks and months to maximize our productivity and success, we rarely consider our personal happiness while juggling our other responsibilities. Rather than leaving it up to chance, set aside time throughout the week to engage with people and activities that bring you joy and happiness. The difference between individuals who age gracefully and those who trudge along is that the former individuals balance their time to include fun, enjoyable activities and hobbies, and even a bit of adventure.
17. …But Don't Take Yourself Seriously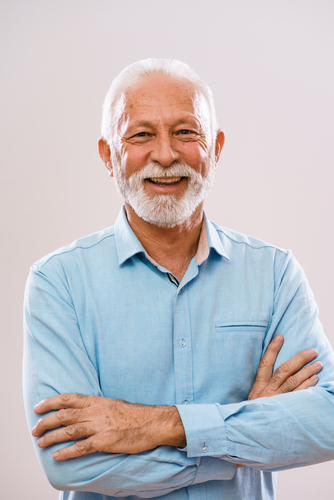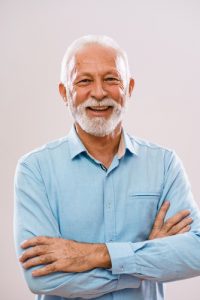 If you're the type of person who holds back their smirk when they hear a good joke, to avoid laugh lines or frivolous fun, we have bad news: aging isn't going to be enjoyable. However, there's a bit of good news: if you can learn to see the humor in every situation, you're going to lead a long, happy and joyous lifestyle. Rather than grunting and groaning throughout your waking hours, deigning to work or participate in activities, crack a few jokes and see the beauty in every moment. Like the art of finding gratitude, enjoying a bit of humor can work wondering on aging and mental health. If overcoming a decreased level of self-confidence seems like a struggle, fear not, you're not alone. In fact, The American Psychological Association (APA) reports that self-esteem peaks at about age 60 and then starts to decline, but making an effort to laugh and enjoy life can help you improve your self-esteem and enjoy the aging process that much more.
18. Play Games
For the first time in your life, we're giving you permission to "waste" time playing games. Since we understand the role of improving our cognitive function as we age, engaging in mentally-demanding activities, such as playing video games or board games, is a brilliant way to roll back the hands of time. Not only will you engage the logical faculties of your brain and force them to grow, but you may also find a new social group online of mature individuals who love video games!
19. Give More Than Take
One of the truths that people who age gracefully understand is the idea of giving more than they take. Whether you're a wealthy individual or counting pennies to make ends meet, finding unique ways of putting a smile on another person's face gives you peace of mind and floods your system with "feel-good" chemicals. Learning to give first as opposed to taking is a superpower few people utilize in their lifetimes, but for those that have embraced the practice, the benefits far surpass the sacrifice.
20. Practice Mindfulness
Lastly, we encourage you to take up meditation in your daily routine. With just a few minutes of sitting in silence, you can eliminate stress, lower your blood pressure, reduce your chance of heart attack and manifest joy and happiness in an instant. Although meditation seems unassuming and dull on its surface, the medical and psychological benefits practitioners experience is amazing. For individuals who want to age with grace and beauty, meditation is a practice to take seriously.
21. Mind Your Diet
 Sure, taking a multi-vitamin is important as you age to prevent nutrient deficiencies, but maintaining a balanced diet of fruits, vegetables, lean proteins, whole grains and healthy fats and dairy is essential to healthy aging. In fact, your dietary choices not only impact your body's aging health, it can also affect when your body begins undergoing key aging milestones such as menopause or andropause.
22. Know When to Ask for Help
 As we age, we tend to feel that asking for help for what seems like simple things is embarrassing, and a burden on those we love. One of the hardest parts of aging is accepting change and new limitations. This doesn't have to be a downfall or an acceptance of an imminent demise, instead see it as an opportunity to learn something new about yourself and find security in identifying your limitations so that you may prolong your health and well-being to enjoy the things that you can, even longer.
23. Watch Your Weight
 This doesn't mean you need to stay or conform to a certain body type, instead this means to acknowledge your weight as a health factor to be aware of and monitor to limit unnecessary risk factors down the road. Discuss your weight and health with your doctor to determine if dietary or lifestyle changes should be made or maintain the healthy approach to life you've always had to keep reaping the benefits. Diet and exercise are tools for maintaining the integrity of your body and by creating healthy habits to maintain a healthy weight can create healthy body function, for better aging.