Nuts contain high amounts of minerals, vitamins, protein, fiber and healthy fats. In other words, they contain all of the things that are essential to age well.
Almonds, pine nuts, pistachios, cashew, walnuts and macadamia nuts not only taste great but are known for many anti-aging benefits including preventing chronic diseases, reducing inflammation and promoting overall longevity. Let's take a look at how each of these nuts can help you age well.
Almonds for a Healthy Heart
Almonds are high in monosaturated fats, which is known to lower LDL (bad cholesterol), increase HDL (good cholesterol) and lower inflammation. By improving your cholesterol levels and reducing inflammation, you can protect your heart and reduce your chances of heart disease. Eating just 23 of these heart-healthy nuts provides you with a whopping 8.7 grams of monosaturated fats.
Almonds are also high in riboflavin, an antioxidant that fights free radicals that can cause damage to your DNA. Other vitamins and minerals found in almonds essential in your fight to age well include calcium and vitamin E.
Pistachios for Bone Density and Sexual Health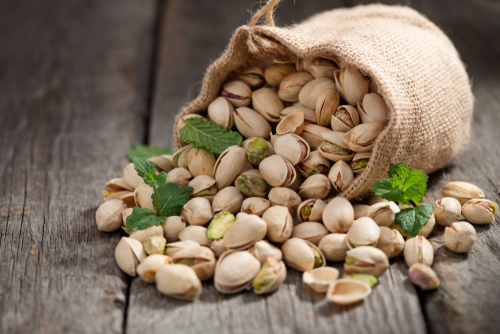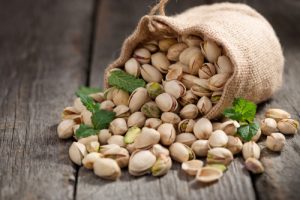 Pistachios are high in both calcium and vitamin K, two things that are essential in maintaining bone density. A single cup of pistachios has more than 10 percent of the recommended daily value of both calcium and vitamin K.
What's even more exciting is that a 2019 Turkish study found that men who suffered from erectile dysfunction and ate a least a handful of pistachios every day for three weeks saw significant improvement in this disorder. They also saw a significant improvement in their lipid parameters, a factor used to determine heart health.
Cashews for Eagle Eyes and Breast Health
Cashews contain two antioxidants, lutein and zeaxanthin. Clinical trials have shown that these two antioxidants can protect the eyes against damage caused by the sun. It is thought that they could also help in preventing age-related macular degeneration.
Cashews also contain high amounts of anacardic acid, which was shown to help balance estrogens levels and suppress hormone-sensitive cancer cells found in the breast.
Walnuts for Cognitive Health
Full of B vitamins, antioxidants, and n-3 polyunsaturated fatty acids, walnuts have been shown to protect against cognitive decline. What's more, research has shown that women who consume at least two servings of walnuts a week are less susceptible to chronic diseases, including Parkinson's and diabetes.
Macadamia Nuts Are a Nutritional Powerhouse
With 10 percent of the recommended daily value of fiber in just a dozen nuts, macadamia nuts help aid proper digestion and bowel function. High in thiamine and manganese, these nuts are also great for promoting a healthy nervous system and bones.
Age Well by Incorporating a Variety of Nuts into Your Diet
As we age, our risk for chronic disorders and inflammation increases. Incorporating nuts into our daily diet can help mitigate these risks and help us in our journey to age well. In fact, a study has shown that middle-aged women who consumed nuts as part of their daily diet have better overall health and wellbeing at older ages.
The key to aging well lies in a varied diet full of healthy foods and nuts. So the next time you reach for a snack, why not make it a handful of mixed nuts?