Light exposure at night from cell phones and other electronic devices interrupts the circadian rhythm. This interruption can impede sleeping and lead to serious health issues.
The Importance of the Circadian Rhythm
Our body runs on a circadian rhythm, a 24-hour biological cycle that determines our sleep/wake cycle. Light exposure at night, especially blue light exposure from cell phones and other electronic devices interrupts the circadian rhythm. This interruption hinders us from having a good night of rest and can lead to several serious health conditions.
Sleeping is vital to our health, especially as we grow older. Any loss of this necessary part of overall health has a negative impact on the body and contributes to several chronic diseases, including obesity, diabetes, heart disease, and depression.
Daytime Light
Both natural and artificial light contain different wavelengths of color that range from white to blue. A little sun exposure during the daytime is good for the body. The minimal amount of blue light in the natural rays of sunlight helps the body stay awake and alert during the daytime.
Many businesses encourage employees to take a break outside during the day to prevent afternoon fatigue. A little fresh air and sunshine sometimes refreshes the body better than a nap will. Some businesses have even built "blue light rooms" for their employees to go for a few minutes during the workday to re-energize themselves.
Research suggests that in addition to increased energy, blue light therapy improves overall health and elevates the mood. This is ideal for daytime, but the same energizing results after nighttime exposure to blue light is not ideal. Not being able to fall into deep slumber, waking up several times during the night and being unable to fall back to sleep after waking up are all unwanted results of blue light exposure at night.
Confused Sleep Rhythm
When a person is routinely exposed to blue light after the sun sets, it confuses the rhythm of the body. Sending and receiving text messages, doing computer work, playing on a gaming device and watching programs on an electronic device expose the body to blue light. Occasional exposure to blue light is not a problem, however, nightly exposure over a period of time will impair sleeping.
The confused rhythm of the body's natural internal clock will cause a person to become sleepy when they should be wide-awake and unable to fall asleep at bedtime. The confused rhythm is often treated with sleeping medication, which can compound the problem.
Health Problems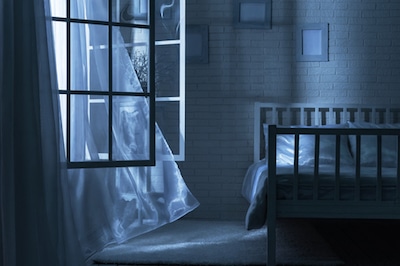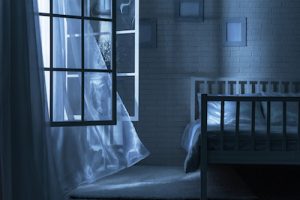 The light emitted from a traditional night-light in a bedroom can lead to health problems as well. This small amount of light can lead to disruptions in sleeping and cause a person to awaken several times during the night. Stronger light, like that from a lamp or bathroom light, will disrupt sleeping even more often throughout the night.
These interruptions cause people to not get enough rest during the night, even though they have been in bed for eight to nine hours. The loss of sleep weakens the body and contributes to major health conditions. Obesity is one condition that is made worse by the lack of sound rest. When you are tired your cortisol level is elevated and there is more available waking time to possibly overeat.
The weight gain often experienced by someone who is not resting soundly at night leads to cardiovascular health problems and diabetes. Also, people who are chronically tired are more likely to experience depression than people who are well rested.
Stop Light Exposure
You can work to improve your nightly slumber by:
Stopping light exposure two hours before bedtime.
Shutting off all electronic devices and turning off all bright overhead lighting in your home.
Red- or orange-toned bulbs can be used to replace white light bulbs in table lamps so you can have non-blue light after sunset.
Remove all sources of artificial lighting from your bedroom. This includes alarm clocks, night-lights and definitely cell phones. If you must have an alarm clock in the bedroom, turn the light away from you or cover it with a dark cloth.
Use light-blocking window curtains to keep out all outside street lighting from coming in through the bedroom window at night.